In this section
Learn how:
Share these COVID-19 resources with your vendors and tech teams:
How does Health Information Exchange affect your practice?
Over the past decade, hospitals and physician offices have made tremendous gains in shifting their medical record-keeping from paper to computerized systems. This shift to electronic health information and interoperability of this information, such as through the use of electronic health records (EHRs), has the potential to make care safer and more efficient and improve the patient care experience by providing timely access to health information and seamlessly coordinated care.
In an ideal state, patients' information should automatically follow them to all of their healthcare providers, so that everyone on their care teams stays informed and provides the best treatment. Facilitating electronic exchange of this health information is critical to easing burden by ensuring that clinicians have the best information possible when making decisions about patient care.
Appropriate and timely sharing of patient information also allows clinicians to ensure patients receive timely care in the most appropriate setting by:
Reducing duplicate testing
Avoiding medication errors
Avoiding readmissions
Improving decision making
Enhancing care coordination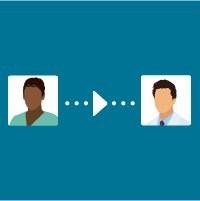 Directed Exchange
The ability to send and receive secure information electronically between care clinicians to support coordinated care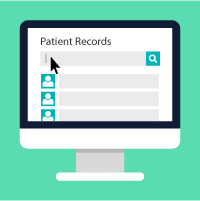 Query-Based Exchange
The ability for clinicians to find and/or request information on a patient from other clinicians, often used for unplanned care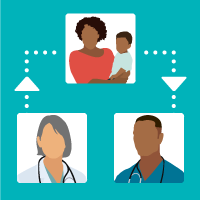 Consumer-Mediated Exchange
The ability for patients to aggregate and control the use of their health information among clinicians
What is being done to improve health information exchange and advance interoperability?
The transition to EHRs has caused frustration among clinicians who expected the electronic capture of information to make their care more efficient. Instead, many clinicians have faced increased workload and patients' and other clinicians' access to the data is not seamless. To address these challenges and improve health information exchange — most notably, in relation to nationwide interoperability and information blocking — Congress passed the 21st Century Cures Act of 2016 (known as "the Cures Act") with bipartisan support.
Specifically, the Cures Act identified the following main priorities for improved interoperability:
Improve data sharing across disparate networks
Reduce information blocking
Advance a trusted exchange framework and a common agreement for exchange between health information networks nationally
Promote the use of APIs to support patients' ability to have greater access to their health information through, for example, smartphones
The provisions of the Cures Act aim to reduce clinicians' regulatory and administrative burden and, in the words of National Coordinator for Health IT Donald Rucker, MD, create "a health system where information flows appropriately and securely to patients and their clinicians [that] will help coordinate care and reduce costs by making care faster and less duplicative."
What is the Trusted Exchange Framework and Common Agreement (TEFCA)?
The Trusted Exchange Framework and Common Agreement (TEFCA) is a framework and agreement to simplify clinical data exchange, or the way people exchange electronic health information.
The 21st Century Cures Act, which passed with strong bipartisan support, called for the development of this framework and agreement. In response, ONC published TEFCA on January 19, 2022. ONC collaborated with an industry-based nonprofit group — the Recognized Coordinating Entity (RCE) — to create the agreement.
The two major components of TEFCA are:
The goal of TEFCA is to establish a way for people to share electronic health information securely without having to make a special effort. In health care, this is known as interoperability, and it allows for complete access, exchange, and use of all electronically accessible health information for authorized use under applicable State or Federal law.
Using the framework and common agreement, many different entities will be able to send, receive, and query for standardized electronic health information locally and nationally. TEFCA will make it easier for providers, payers, and consumers to access health information, supporting better clinical decision-making, improved outcomes, and lower costs. Specifically, TEFCA will improve patient care and help health care providers:
Coordinate with other providers
Give patients access to their health information
Access information needed to support value-based care, care management, and population health
Ease the burden of public health reporting
Prepare for and respond to emergencies
Increase confidence in data received from others
To learn about TEFCA, health care providers are encouraged to:
Review the Trusted Exchange Framework, Common Agreement, QHIN Technical Framework, and the educational materials on the RCE's website
Consider scenarios within their everyday practice that could be supported through TEFCA
Evaluate their existing health information network partnerships and ask whether partners are planning to participate in TEFCA
Evaluate how their existing electronic health record supports information exchange
Ask how their vendors are preparing for TEFCA