This section of the Playbook provides background on the opioid epidemic in the United States and how health IT plays a role. It presents information on different health IT solutions that clinicians can use to address the problem. Health care practitioners, administrators and physician practice owners, and practice staff can also find a variety of health IT resources in this section. These tools can help improve opioid prescribing practices, inform clinical practice, protect patients at risk, and reduce diversion (illegally obtaining or using prescription medications). While the opioid epidemic requires diligence and collaboration from all aspects of patient care, health IT and the various related tools are but one of many solutions; we encourage the use of effective clinical tools and resources in addressing this complex issue.
National opioid epidemic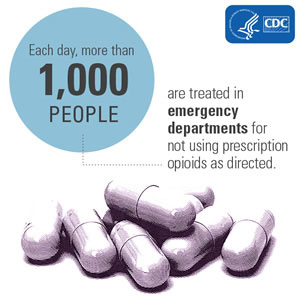 Health care clinicians across the country struggle to fight a growing national public health crisis. Drug overdose is the leading cause of accidental death in the U.S. Opioid addiction is driving this epidemic, with 90 overdose deaths each day. The Centers for Disease Control and Prevention (CDC) reported that opioids (including prescription opioids, heroin, and fentanyl) killed more than 30,000 Americans in 2015. Almost half of those deaths involved prescription opioid painkillers.
Overdose deaths from prescription opioids have more than quadrupled since 1999,1, 2 and so have sales of these prescription drugs.3 In 2015, the amount of opioids prescribed was enough for every American to be medicated around the clock for 3 weeks. Raising further alarm, 4 in 5 new heroin users started out by misusing prescription opioids.4 Now, nearly 2 million people in America have a prescription opioid use disorder, contributing to increased illicit opioid use and the spread of HIV and hepatitis C.5
What is fueling the opioid epidemic?
Because increased opioid prescribing has been a primary driver of the opioid epidemic, reducing the overprescribing of these therapies is a primary focus of efforts to reverse this trend. While actions to address opioid abuse must target both clinicians and high-risk patients, clinicians are the gatekeepers for preventing inappropriate access to prescription opioids — and providing safe, appropriate treatment. Clinicians report concern about opioid-related risks of addiction and overdose, as well as insufficient training in pain management. Clinicians need additional training and resources to adequately prescribe opioids responsibly and prevent the misuse and abuse of medicine in their practices.
How can health IT help?
Health IT is increasingly used to improve the quality and efficiency of health care delivery, patient safety, care coordination, and patient-centered care. It also offers promising strategies to address the opioid epidemic. The use of health IT has been demonstrated to improve adherence to opioid prescribing guidelines and physician adherence to treatment protocols, increase the safety of prescribing for controlled substances, enhance clinician access to prescription drug monitoring programs (PDMPs), expand access to addiction treatment and recovery supports, and much more.
As the opioid epidemic escalates, clinicians are actively seeking tools and resources to help prevent and detect opioid misuse, abuse, and diversion by their patients. The following sections of the Playbook describe in detail how various health IT solutions are being used by clinicians on the frontlines to address the opioid crisis in their practice.
Where can I access health IT tools to support opioid prescribing?