What are Certified Health IT and Certified EHR Technology (CEHRT), and how can it help my practice?
The U.S. Department of Health and Human Services (HHS) Office of the National Coordinator for Health Information Technology (ONC) is responsible for overseeing a certification program that provides for the certification and regulation of Health IT Modules, which includes technology such as Electronic Health Records (EHRs) and Health Information Exchanges (HIEs). The ONC's certification program sets health IT standards, implementation specifications and certification criteria for these Health IT Modules nationwide. Certification of health IT can support the establishment of a connected, interoperable nationwide health information infrastructure. Once an EHR is certified by the ONC Health IT Certification Program, it is designated as a certified Health IT Module and will be listed on ONC's Certified Health IT Product List (CHPL). Certain health care payment programs, including the CMS EHR Incentive Program (also known as the "Meaningful Use" Program), require providers to use health IT that has been certified under the ONC Health IT Certification Program to provide specific clinical care and data exchange functions. CMS refers to the set of health IT that an eligible provider in the EHR Incentive Program must have as Certified EHR Technology (CEHRT).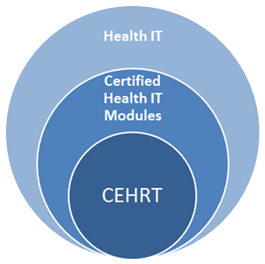 The use of certified health IT in CMS programs and across the care delivery landscape provides a baseline level of assurance that the technology will perform clinical care and data exchange functions in accordance with interoperability-focused standards, user-centered design to enhance patient safety and usability, and privacy and security—which allows for the electronic exchange of clinical care documents for improved care coordination. For example, ONC has adopted standards that include vocabulary code sets like SNOMED-CT® that ensure continuity of clinical terminology from one system to the next. ONC has also adopted standards for exchanging clinical content, such as the Health Level 7 Consolidated Clinical Document Architecture (known to many as the C-CDA). The C-CDA is an electronic representation of a patient's clinical care summary that can be sent and received by different EHR systems and retain the same meaning across systems. To-date, ONC has issued three "Editions", or set of certification criteria – the 2011 Edition, the 2014 Edition, and the 2015 Edition. Each Edition has built upon the previous Edition incrementally by adopting newer standards and more advanced health IT functions to continually move toward improved clinical care, nationwide interoperability, and health information exchange.
Additional examples of what certified health IT, like EHRs, can do for your practice include:
Electronic Prescribing (E-Rx)
Drug-drug, drug allergy interaction checking
Patient-specific Education Resources
Secure e-Messaging
Document a patient's social, psychological, and behavioral data
Denote "sensitive" electronic patient documents for privacy purposes
Document a patient's care plan preferences
And other clinical decision support tools that assist providers in making evidence-based care decisions.
A number of programs and organizations encourage or require the use of health IT certified under the ONC Health IT Certification Program in addition to the CMS EHR Incentive Program. These programs and organizations include, but are not limited to:
Physician Self-Referral Law exception and Anti-kickback Statute safe harbor for certain EHR donations
Department of Defense Healthcare Management System Modernization Program
The Joint Commission for performance measurement initiative ("ORYX vendor" – eCQMs for hospitals)
Prospective Payment System and Consolidated Billing for Skilled Nursing Facilities for FY 2015 proposed rule (79 FR 45652)
For chronic care management services in CY 2016 Physician Fee Schedule final rule (80 FR 41796)
Mechanized Claims Processing and Information Retrieval Systems (MMIS) proposed rule (80 FR 20464) requires that state MMIS systems align with adopted standards and allow for interoperability with health information exchanges
Under the Medicare Access and Chip Reauthorization Act of 2015 (MACRA), Advanced Alternative Payment Models (APMs) must require their participants to use CEHRT in order for qualifying participants to receive the APM bonus