Social determinants of health (SDOH) are the conditions in the environments where people are born, live, learn, work, play, worship, and age that affect a wide range of health, functioning, and quality-of-life outcomes and risks.
An integral part of health care delivery involves understanding these social and environmental factors of individuals' lives outside of the health care system. Inequities in these conditions are driven in large part by the root causes of poverty and racism. Interoperable SDOH data can support the identification and reduction of health disparities to improve individual and population health.
Advancing SDOH Interoperability
ONC focuses on four key areas for using health IT to advance the interoperability and use of SDOH data:
Standards and Data

Advance Standards Development and Adoption

Policy

Emerging Policy Challenges and Opportunities

Infrastructure

HIE, State, and Local

Implementation

Integration, Innovation, and Health IT Tools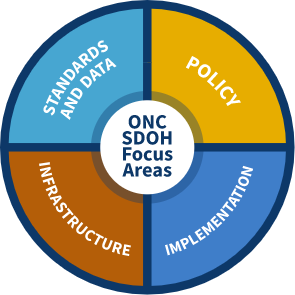 As part of this focus, ONC embraces a "health equity by design" approach. This involves identifying health equity considerations as early as possible in any policy creation, technology development, or implementation approach.
ONC SDOH Data Interoperability Standardization Efforts
Developing and advancing standards sets the foundation for SDOH data interoperability and involves a collaborative process. Social determinants of health data represented using healthcare terminology, structured content, or exchange standards is important to enable the collection, exchange, and use of this data.
For EHR users, incorporating SDOH data into their electronic health records is an important step for providing holistic, person-centered care, and for addressing existing health equity gaps. For settings without an EHR, such as a local food bank or other community-based organizations, the use of standardized, structured SDOH data aligned with non-proprietary, national data standards can support broader integration opportunities with healthcare systems and community settings. To integrate SDOH data into EHRs or share it in a readable format with partner organizations, that data must first be standardized.
ONC advances the development and promotion of SDOH data standardization through various programs and resources in collaboration with federal and non-federal stakeholders. ONC policy and technical resources specific to standards include:
ONC's Health IT Certification Program requires the use of the United States Core Data for Interoperability Version One (USCDI v1), a standardized set of health data classes and constituent data elements including race and ethnicity, clinical notes, allergies and intolerances, laboratory test results, and medications for nationwide interoperable health information exchange. The USCDI, specifically USCDI Version 2 and beyond, includes data elements and classes such as SDOH, sexual orientation and gender identity (SOGI), and many other health equity related data elements to help improve health care data needs.
The Interoperability Standards Advisory (ISA) is an informational resource listing health information standards, models, and profiles fitting into more than 75-sub-sections divided by topic/use. Throughout the ISA there are vocabulary, code set, terminology, content, and structure standards and implementation specifications to support the interoperability needs for SDOH data. The ONC Standards Bulletin is a periodically published communication document about ONC health IT standards initiatives. Past issues of the Standards Bulletin covered topics such as ONC United States Core Data for Interoperability (USCDI) Version 2, which introduced several SDOH data elements to promote the standardized collection and exchange of such data to promote equity and reduce disparities.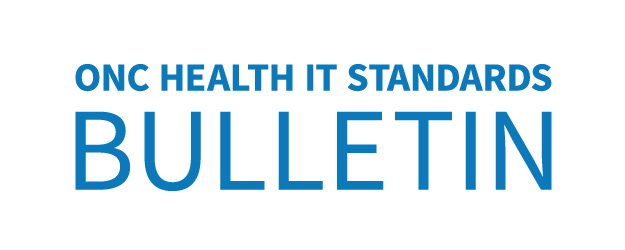 Through its Health IT Certification Program, ONC supports the use of interoperable SDOH data that can be electronically captured, used, and exchanged. To browse certification criteria categories, such as those on care coordination, patient engagement, and electronic exchange, click on an icon from the wheel available on the "Understanding Certified Health IT Graphic."

The Standards Version Advancement Process (SVAP) permits health IT developers to voluntarily update health IT products certified under the Certification Program to newer versions of adopted standards as part of the 21st Century Cures Act. With stakeholder input, ONC developed a set of foundational elements intended to inform and advance SDOH information exchange initiatives. These 11 foundational elements include a range of topics such as community readiness and stewardship; values and principles; policy and governance; and technical infrastructure and data standards. The SDOH Information Exchange Learning Forum explores these foundational elements and brings together health care providers, community-based organizations, government, payers, health information exchange networks, IT platform developers, innovators, and other partners to share lessons learned, challenges, and promising practices related to exchanging SDOH data.
Leading Edge Acceleration Projects (LEAP) in Health IT tackle the creation of new standards, methods, and tools to improve care delivery and advance research capabilities. Several of the LEAP awards are conducting projects related to SDOH data exchange and registries, APIs, and closed-loop referrals. These projects engage a wide range of stakeholders including developers, Federally Qualified Health Centers (FQHCs), standards development organizations, community organizations, providers, and many more.
Among the various objectives under the Public Health Emergency Response Related HL7 Standards, Solutions, and Future Pandemics Cooperative Agreement, HL7 will develop, advance, and harmonize SDOH standards through the use of FHIR and APIs to enhance SDOH data exchange. Developing and advancing the FHIR resources and APIs will help to give providers access to data that can be used to support the needs of their patients.
Read About the New Pilots to Advance SDOH Standards
HL7 Gravity Pilots Affinity Group
The STAR HIE Program is a cooperative agreement program that is designed to strengthen and expand the ability of health information exchanges (HIEs) to support public health agencies in their response to public health emergencies and pandemics. The STAR HIE Program builds upon federal investments in HIEs and leverages work from the industry to advance HIE services for the benefit of public health.
ONC's Health IT Playbook supports clinicians, administrators, and medical practice staff in efforts to leverage health IT to identify, understand, and address SDOH needs for their patients and the communities they serve. It describes how the ability to capture and access SDOH data can empower clinicians to work with individuals to support their health goals – and to improve health outcomes and reduce health disparities. SDOH data can also help clinical practices identify health disparities and take action to improve health equity.
The Advancing Standards for Precision Medicine (ASPM) project is responsible for the development and testing of standards for new and diverse types of health data, including SDOH data. A demonstration project tested the Integrating the Healthcare Enterprise Assessment Curation and Data Collection (IHE ACDC) profile, which was developed by the ASPM project team to capture SDOH data through assessments and questionnaires.
This ONC-led project aims to advance the interoperability of SDOH data by supporting efforts to conduct data tagging and by assessing the feasibility of developing electronic clinical decision support that incorporates SDOH data. Data tagging can help enable the movement of sensitive SDOH data. eCDS can enable the integration of SDOH decision-making data into clinical workflows, making it more likely that SDOH information will be utilized as a part of care delivery.
SDOH Interoperability Resources
 

SDOH Information Exchange Toolkit

ONC developed a toolkit based on the

foundational elements

that support states, payers, community-based services entities, and other stakeholders with the implementation of SDOH-based data exchange within their communities. The toolkit will include considerations for applying health IT standards, infrastructure, and interoperability.

 

 

Social Determinants of Health (SDOH) Clinical Decision Support (CDS) Feasibility Brief

A standardized approach to clinical decision support (CDS) using SDOH factors can enable clinical practice guidelines to become part of routine care delivery. The SDOH CDS information brief explores how clinical practice guidelines that include SDOH factors present an opportunity to advance health equity and improve health outcomes.