Interoperability
ONC Health IT Framework for Advancing SDOH Data Use and Interoperability
Jawanna Henry and Samantha Meklir | June 17, 2021
Social determinants of health (SDOH) are the conditions in environments where people are born, live, learn, work, play, worship and age that affect a wide range of health, functioning, and quality-of-life outcomes and risks. Addressing inequities in these conditions, driven in large part due to the root causes of poverty and racism, can be supported in part through the collection, documentation, reporting, access and use of SDOH data. This data can be used to help identify and eliminate health disparities and to improve health outcomes at an individual and population level.
ONC focuses on four key areas with respect to how health IT can be used to help achieve this: standards and data; infrastructure; policy; and, implementation.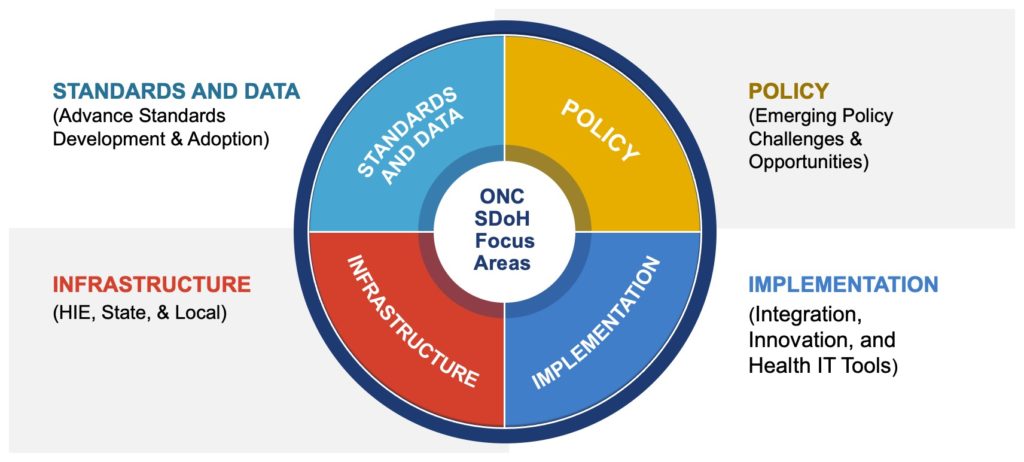 Advancing the use and interoperability of SDOH data is important to improve the health and well-being of all individuals and communities. ONC works collaboratively with federal partners and the stakeholder community to advance the electronic exchange and use of SDOH data to help improve individual and population health by:
Guiding the development, dissemination, and adoption of health standards.
Informing policy development to overcome SDOH interoperability challenges and data use.
Supporting states and local governments as they build the infrastructures for SDOH data.
Driving innovation in care delivery by using health IT tools and standards to integrate SDOH data into workflows.
We believe this approach will lead to:
A greater focus on the use of social and health data including adoption of standards focused on SDOH;
Broader dissemination of health IT approaches and tools to support infrastructure in local communities; and,
Person-centered policies and successful health IT implementation using SDOH data as part of care delivery including for social care referrals and decision-making.
ONC is currently working on several projects represented across the four focus areas. A few examples of our current activities include:
Standards and Data
ONC awarded a cooperative agreement to HL7® that includes prioritizing and expediting the development and deployment of gap and opportunity areas for Social Determinants of Health (SDOH) Standards.
Policy
ONC examines current practices in the field to inform ongoing work streams across all focus areas including updating data collection instruments on health IT and SDOH to inform policy development.
Infrastructure
ONC is developing a toolkit in order to support states, payers, community-based services entities, and other stakeholders with their implementation of SDOH-based data exchange within their communities. The toolkit will include considerations for applying health IT standards, infrastructure, and interoperability.
Implementation
ONC is working to advance SDOH data interoperability and the use of health IT tools by exploring electronic data tagging capabilities and clinical guidelines with SDOH for electronic clinical decision support. We're also exploring ways to more precisely and equitably exchange health information, especially in disproportionately impacted and under-resourced communities.
Stay tuned for more updates on our work involving the SDOH from a health IT perspective and be sure to visit HealthIT.gov/sdoh.