A Guide to Using the Playbook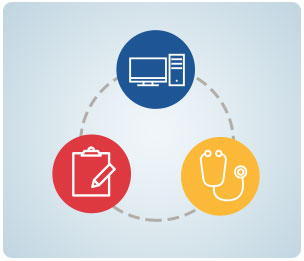 Investing in health information technology (health IT) can help improve value and quality in health care. Yet using health IT effectively is still a challenge in many practices.
Whether you're part of a large health system or a small, local practice, this Playbook can help you make the most of health IT. You'll find resources for every step of the process, from planning to implementation to reporting.
With the Playbook as your guide, you can:
This Playbook is also designed to help each member of the care team — including administratorsand physician practice owners, clinicians and practitioners, and practice staff — understand theirrole in leveraging health IT. Check out the guidance below to see which sections of the Playbookmight be most useful to you.
Consider reviewing the entire Playbook to learn how all team members can work together to make health IT work for your practice.
The Players
Administrators and Physician Practice Owners
Learn how to:
Clinicians and Practitioners
Learn how to:
Practice Staff
Learn how to: