Executive Director, Office of Technology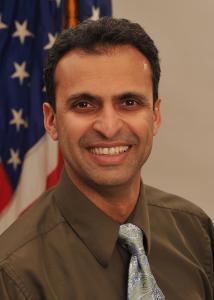 Avinash Shanbhag is the Executive Director of the Office of Technology. In this role, he advises the National Coordinator and the Deputy National Coordinator on health information technology matters, provides executive direction and control over ONC's technology portfolio, and fosters health information innovation.
Mr. Shanbhag oversees coordination with federal agencies and industry stakeholders for advancing health information technology interoperability for improved health care delivery. He leads ONC's standards coordination activities with all the health IT standards development organizations, including administration of the ONC Health IT Certification Program, the Certified Health IT Product Lists, and the certification testing tools.
Throughout his over 10-year career with ONC, Mr. Shanbhag has held a variety of leadership positions, including serving as the Deputy Director of the Office of Technology, Director of the Testing Division, and the Director of the Nationwide Health Information Network. During his tenure at ONC, he led the creation of the ONC testing and utilities platform to support health IT developers, developed a long term vision for the Nationwide Health Information Network, and successfully transitioned the operations of the network into the "eHealth Exchange."
He has over 25 years of experience in developing enterprise software systems and managing large scale distributed software systems for healthcare industry. Prior to joining ONC, Mr. Shanbhag served as the Director of Core Infrastructure at the Center for Biomedical Informatics and Information Technology under the National Cancer Institute (NCI). He was responsible for developing and operating the distributed network and semantic services used by all the NCI funded institutions to share research data in a privacy protective manner.
Mr. Shanbhag holds a Master of Chemical Engineering from University of Alberta, and a Master of Operations Research from University of Maryland. He also maintains a Service Oriented Architecture certificate and a certificate in Machine Learning from MIT Sloan School of Management.