Deputy Director, Office of Policy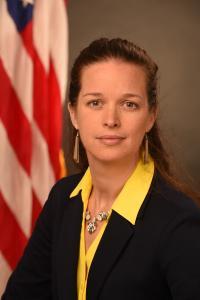 As deputy director of the Office of Policy at ONC, Ms. Myers is focused on leading teams implementing the 21st Century Cures Act health IT provisions on interoperability for patient access, information blocking, and health IT for specialty settings and sites of service. She also leads the policy team working on the health IT provisions of the SUPPORT Act of December 2018 which established initiatives for Opioid Use Disorder prevention and treatment. Her portfolio includes supporting health IT policy for HHS partner initiatives including CMS, CDC, SAMHSA and HRSA as well as state health IT infrastructure initiatives.
Prior to her work at ONC, Ms. Myers served as policy lead in the CMS Centers for Clinical Standards and Quality supporting CMS electronic quality reporting and the meaningful use/EHR Incentive Programs.  In two decades of experience in healthcare and health IT policy, she has served in numerous roles in both the private and public sector including as assistant director of legislative affairs for the Governor's Office of Healthcare Reform in Pennsylvania.  In this role, she worked on landmark legislation and administrative initiatives related to improving patient access to healthcare through expansions of nurse-managed care, reducing hospital acquired infections and adverse events through real-time digital surveillance, and expanding health care coverage for children and adults in the Commonwealth. In the private sector, she served as an advocate on policy initiatives related to high priority health care issues such as childhood obesity, mesothelioma, and health equity.
Ms. Myers holds a bachelor's degree from Haverford College and a Master of Business Administration from Johns Hopkins University.