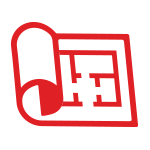 Organizations can use quality measurement results to help identify areas for improvement and develop improvement plans.  Improvement targets are often associated with various reimbursement or recognition programs, and may include internal objectives aligned with progress toward these program goals or benchmarks.  Internal priorities for improvement might also be identified supporting more internal goals for performance improvement.
Building a plan requires a quality improvement strategy and methodology. Clinician practices and other health care organizations that may not have these in place can access a variety of resources to help develop them.  One resource that has been used successfully in HHS-supported programs is Continuous Quality Improvement (CQI) Strategies to Optimize your Practice. 
Using quality measurement results and a quality improvement strategy, an organization can identify meaningful goals and a practical approach to pursue those goals.  Many components of health IT can factor into improvement opportunities and potentially accelerate strategies.  However, while considering opportunities and developing strategy, organizations should remain focused on activities that will yield the highest value, through such benefits as improved patient care and clinician work satisfaction.