Amy Abernethy, MD, PhD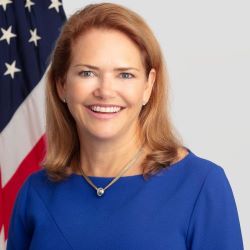 Member of:
Health IT Advisory Committee
, Federal Representative
Principal Deputy Commissioner and Acting Chief Information Officer
U.S. Food and Drug Administration
Amy P. Abernethy, M.D., Ph.D. is an oncologist and internationally recognized clinical data expert and clinical researcher. As the Principal Deputy Commissioner of Food and Drugs, Dr. Abernethy helps oversee FDA's day-to-day functioning and directs special and high-priority cross-cutting initiatives that impact the regulation of drugs, medical devices, tobacco and food. As acting Chief Information Officer, she oversees FDA's data and technical vision, and its execution. She has held multiple executive roles at Flatiron Health and was professor of medicine at Duke University School of Medicine, where she ran the Center for Learning Health Care and the Duke Cancer Care Research Program. Dr. Abernethy received her M.D. at Duke University, where she did her internal medicine residency, served as chief resident, and completed her hematology/oncology fellowship. She received her Ph.D. from Flinders University, her B.A. from the University of Pennsylvania and is boarded in palliative medicine.