Emergency medical services (EMS) is the practice of medicine involving the evaluation and management of patients with acute traumatic and medical conditions in an environment outside the hospital (pre-hospital). EMS is unique in that it brings together the disciplines of public safety, acute patient care and public health.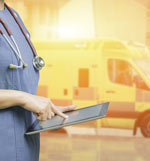 EMS providers respond to an estimated 36.5 million calls for service, and transport 28 million patients to hospitals each year. For EMS, every day can be an emergency, from a major vehicle accident on an interstate to a cardiac arrest of a neighbor down the street, to a natural disaster—having the right information on hand can make all the difference.
A major role that EMS serves is to respond to disasters and assist communities in recovery.  EMS providers are the first responders on the scene. As a part of their core community response efforts, they assess the scene, treat and triage patients, perform initial disease surveillance, dispense/vaccinate prophylaxis and in some cases perform HAZMAT duties.
For example during H1N1, many states implemented polices to allow EMS providers to give flu vaccines, recognizing that in some communities EMS is the only health provider.  During both a public health emergency, or even day to day, EMS providers can extend the reach of the public health workforce in the community and health IT can help improve efficiencies and patient care in both of these use cases.
Today, the estimated 21,000 plus EMS agencies around the country are working together to implement a local, state, and national standards based electronic EMS documentation system which can be used at every level to improve performance and patient care. The National EMS Information System (NEMSIS) is a product of the National Highway Traffic Safety Administration's Office of EMS. The University of Utah is the host of the NEMSIS Technical Assistance Center. The NEMSIS Version 3 Dataset is a nationally recognized standard developed with input from EMS stakeholders across the nation and includes EMS agency users and health IT developers. NEMSIS Version 3 is comprised of a data dictionary, data exchange standard using XML, and business logic validation method using Schematron, and an automated exchange method using web-services. NEMSIS Version 3 is an HL7 and ANSI approved CDA standard and is capable of describing EMS from an operational, service delivery and patient care perspective.
How are EMS Providers Using Health IT?
Everyday EMS providers enter data into an electronic patient care record (ePCR), the EMS equivalent to an electronic health record (EHR).  The data collected includes individual patient information as well as operational, service delivery and quality data.  In most cases, local EMS providers share an aggregated de-identified minimum NEMSIS data set with their state EMS agency who then shares a subset of this data at the national level which is collected and stored in a national NEMSIS database. Ultimately, the NEMSIS uniform dataset and national database can help local, state and national EMS partners address issues such as EMS performance and clinical interventions, strategic planning, and future requirements.