Portals can offer key features such as:
Online booking and prescription refills

Secure information sharing

Sharing notes

Credible patient education resources

Support for electronic records requests
See how they can benefit both your staff and your patients.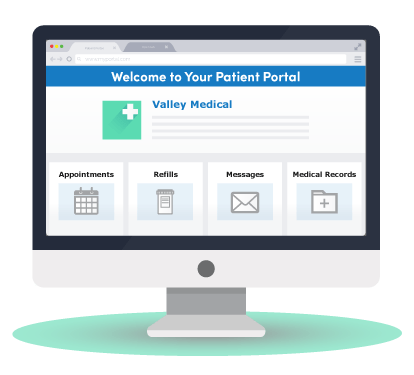 Allow online booking and prescription refills.
On average, it takes staff a little more than 8 minutes to schedule an appointment over the phone.
Your staff will gain valuable time by not having to deal with booking and refills on the phone — potentially hours every week.
I used to run out of my medications a lot — I'd forget to call when the office was open. Now I go online and get a refill as soon as I notice I'm running low. It's a lot less stressful.
Go back
Set up secure information sharing
Sharing information — such as lab results or emails — with patients through a secure patient portal can:
Reduce phone calls

Allow you to respond to patient questions in your own time

Reflect well on your office, demonstrating your accessibility and openness
I love being able to ask my doctor a question without the hassle of leaving a message and then waiting and worrying I'm going to miss her call. Getting an answer in writing gives me peace of mind.
Go back
Share Notes
Patients forget up to 80% of what their clinicians tell them during an appointment. Sharing notes helps them better understand and follow your advice. According to research, sharing notes also:
Increases transparency, which patients appreciate

Doesn't add to clinician workload

Can improve patient self-care and compliance
I have a few different health problems and it's hard to keep track of what my doctor said in the office. Now my wife and I can just check the notes to be sure about what I'm supposed to do.
Go back
Provide credible educational resources
Providing credible educational resources — like evidence-based health and wellness tools — makes your patient portal more:
Useful

Effective

Engaging for patients
I like myhealthfinder because it's simple, straightforward, and it gave me good tips. With stuff like that, people may actually pay attention and change their lives.
Go back
Support electronic records requests
When it's easy to see and share health information, patients and caregivers are empowered to better coordinate their health care.
Integrating records requests into your patient portal can:
Help prevent repeat or unnecessary tests and procedures

Save time and reduce hassle for patients, clinicians, and care teams
"I used to have to pick up records in person from my doctor all the time. I love that I can do it online now — it's so much faster and easier."
Go Back
Find this information helpful?