Grace Terrell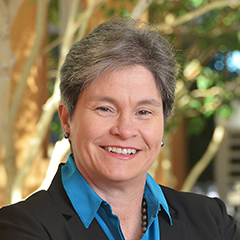 Role:
Trusted Exchange Framework Task Force,
Member
Chief Executive Officer
Dr. Grace Terrell is CEO of Envision Genomics, a company helping clinicians diagnose rare disease through the integration of genomic data into clinical care. At Envision Genomics, she is focused on the integration of precision medicine technology into population health frameworks for patients with rare, misdiagnosed, and undiagnosed disorders to improve the triple aim 100-fold. She is a national thought leader in health care innovation and delivery system reform, and a serial entrepreneur in population health outcomes driven through patient care model design, clinical and information integration, and value-based payment models.
In 1995 she and seven other physicians founded Cornerstone Health Care, a multi-specialty medical practice now part of the Wake Forest Baptist Health System. While CEO, Cornerstone grew from 42 physicians and $16 M in annual revenues to 375 providers and $250 M in revenues and won AMGA's prestigious Acclaim Award, had the best performing MSSP Track 1 ACO in the country, was the first system-wide Patient Centered Medical Home in North Carolina, and was one of the first organizations to make the "move to value" by lowering the cost of care and improving its quality for the sickest, most vulnerable patients in various care models by 13-20%.
In 2013, Dr. Terrell launched CHESS, a population health management company that brought the innovations of the Cornerstone care model redesign process to a wider group of health care systems. She served as CEO of CHESS until it was acquired by LabCorp and Wake Forest Baptist Health in 2016. CHESS currently has greater than 120,000 lives under management in various risk-based contracts.
Dr. Terrell currently serves on the U.S. Department of Health and Human Services' Physician-Focused Payment Model Technical Advisory Committee, the Board of Directors of the American Medical Group Association, and the Oliver Wyman Health Innovation Center's Leadership Alliance.