Aaron Miri, MBA, FCHIME, FHIMSS, CHCIO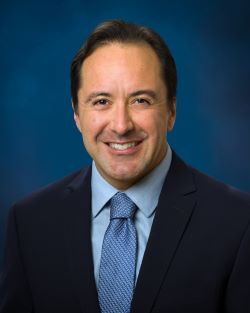 Role:
Health IT Advisory Committee,
Co-Chair
Annual Report Workgroup,
Co-Chair
Trusted Exchange Framework and Common Agreement Task Force,
Member
Health IT for the Care Continuum Task Force,
Member
Information Blocking Task Force,
Member
Intersection of Clinical and Administrative Data Task Force,
Member
U.S. Core Data for Interoperability Task Force 2021,
Member
Public Health Data Systems Task Force 2021,
Member
Trusted Exchange Framework Task Force,
Member
Senior Vice President, Chief Digital & Information Officer
Aaron Miri is the SVP and Chief Digital & Information Officer (CDIO) for Baptist Health System located in Jacksonville, Florida. Aaron brings more than 20 years of healthcare and technology experience driving growth and innovation, leading provider and commercial healthcare delivery enterprises, and providing thought leadership and close collaboration with state and federal representatives. As CDIO, Aaron is passionate about humanizing technology by collaborating with clinicians, technology partners, and business champions to transform healthcare delivery for consumers, patients, and providers.

In 2020, The United States Senate congressionally re-appointed Aaron for a second term to the Health and Human Services, federal Health IT Advisory Committee (HITAC), established under the 21st Century Cures Act. Furthermore, he was elevated to the role of Co-Chairman of the HITAC. The United States Senate first appointed Aaron to the HITAC in 2018.

In 2016, The Obama Administration appointed Aaron to serve on the Health IT Policy Committee established under the American Recovery and Reinvestment Act of 2009. Aaron is the prior Chairman of the HIMSS National Public Policy Committee, he serves on the CHIME Public Policy Committee, and he is an advisor to the National Academy of Medicine on the topics of healthcare privacy, security, and data.

Prior to joining Baptist Health, Aaron served as the Chief Information Officer for The University of Texas at Austin, Dell Medical School and UT Health Austin where he led the healthcare technology team through critical pandemic response efforts focused on mass vaccination, contact tracing, data analytics development, and equitable digital patient engagement through development of cloud based tools and functions. Prior to UT Austin, Aaron was the Global Chief Information Officer for Imprivata and he is the former Chief Technology Officer for Children's Health System of Texas.

Aaron has successfully led organizations that achieved the HIMSS Nicholas E. Davies Award, HIMSS Level 7 EMRAM status, HITRUST CSF designation, and he led the first provider organization to receive the SECURETexas Health Information Privacy and Security certification awarded through the Texas Health Services Authority. Aaron is also a faculty member of the CHIME CIO Boot Camp and Chime University, and he routinely mentors early careerists through CHIME, HIMSS, and other national Health IT associations.

Aaron received his MBA with distinction from the University of Dallas, and his Bachelor of Science in Management Information Systems from the University of Texas at Arlington. Aaron is a Certified Healthcare Chief Information Officer (CHCIO) through the College of Healthcare Information Management Executives, a distinguished Fellow with the Health Information Management Systems Society (FHIMSS), a distinguished Fellow with the College of Healthcare Information Management Executives (FCHIME), and he is a Project Management Professional (PMP) with the Project Management Institute.

Aaron is a nationally recognized 2020 "CIOs to Know" by Becker's Hospital Review, 2020 Healthcare Hero's Awardee from CHIME, 2019 Constellation Research Business Transformation 150 award recipient , 2017 Texas Health IT Advocacy Leadership Award recipient, and was honored with the 2016 Computerworld Premier 100 Technology Leaders award.

He also serves on the Board of Directors with The Sequoia Project, Board of Directors for the Commonwell Health Alliance, Council of Information Technology Executives for AthenaHealth, CIO board advisor for Dell Technologies., and as an industry advisor for numerous healthcare technology startups and leading venture capital corporations.