Michelle Schreiber, MD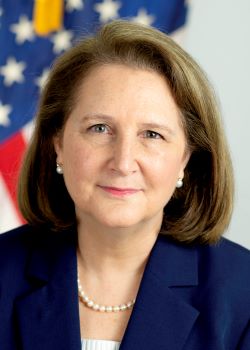 Role:
Health IT Advisory Committee,
Federal Representative
U.S. Core Data for Interoperability Task Force 2021,
Member
Interoperability Standards Workgroup,
Member
Deputy Director of Center for Clinical Standards and Quality (CCSQ), and Director of the Quality Measurement and Value-based Incentives Group (QMVIG)
Centers for Medicare and Medicaid Services
Dr. Schreiber is currently the Director of the Quality Measurement and Value-Based Incentives Group at CMS. Dr. Schreiber is a general internal medicine physician with over 25 years of health care experience. Most recently, she was the Senior Vice President and Chief Quality Officer of Henry Ford Health System (HFHS) in Detroit, Michigan. Prior roles at HFHS included the Division Head of General Internal Medicine, and the SVP of Clinical Transformation and IT Integration, where she was the clinical lead of the systemwide Epic implementation. The Epic implementation and use earned HFHS a Davies Award in 2018. She has also held senior leadership roles at the Detroit Medical Center, where she was the Chief Quality Officer, and with Trinity Health System where she was the national system Chief Medical Officer, and acting interim Chief Medical Information Officer.
In addition to her health system roles, Dr. Schreiber has served on numerous quality committees including Michigan Hospital Association statewide quality committee, and Board of Directors for the MHA Keystone Center and the Patient Safety Organization, the Board of Directors of MPRO (Michigan Peer Review Organization – the Michigan QIO), the Board of Directors of Health Alliance Plan insurance company, the National Quality Forum Patient Safety Metrics Committee, and the National Quality Partners. She has worked with the Institute for Healthcare Improvement (IHI) including as part of its Leadership Alliance, the Pursuing Equity initiative, and an initiative to enhance Board of Trustees engagement in quality through a partnership with IHI and National Patient Safety Foundation. Dr. Schreiber has also served as a member of the Epic Safety Forum, and the Cerner Academic Advisory Group.
Dr. Schreiber's interests are quality improvement, quality measures, and the intersection with electronic medical records to advance quality and quality measures.