Fall 2012
Dr.
Richard
Hempel,
Danville,
Kentucky

This case study of two rural Kentucky medical practices highlights approaches for using patient portals and secure messaging to engage elderly patients and their family members and patients with diabetes.
Highlights include:
Factors contributing to successful implementation of clinical summaries
Benefits of using patient portals and secure electronic messaging – provider and patient perspectives
Best practices for using patient portals and secure electronic messaging
Big Sandy Health Care (BSHC), a federally qualified health center in eastern Kentucky, and the Family Medicine Clinic of Danville, a small private practice in central Kentucky, are in the vanguard of health IT adoption and meaningful use of electronic health records (EHR s) to support patient and family engagement in rural areas. As rural health care providers, the two practices face common challenges, such as older patient populations with complex health conditions as well as lower rates of Internet access and use compared with nonrural areas and a shortage of skilled health IT professionals.
For example:
Diabetes rates in Kentucky are high and both practices serve many patients with this condition. In the counties served by BSHC, the percentage of adults living with diabetes ranges from 13% to 22%, compared with a national average of 8.7%. Most of the counties served by the Family Medicine Clinic of Danville also have higher rates of diabetes and the population is older than the national average.1,2
Nearly 60% of Kentucky's population lives in rural areas or small cities where many hous eholds lack reliable Internet access.
Kentucky ranks 48th out of all the states in the percentage of households that use the Internet. Only 68% of households in rural Kentucky report Internet usage.
A lack of skilled health IT professionals is another common challenge in rural areas. For example, the Family Medicine Clinic of Danville relies on expert consultants from outside the region for some of their IT needs. BSHC was fortunate to recruit a talented IT specialist who completed a Masters of Science in Information Systems since joining BSHC and now serves as Chief Information Officer (CIO).
Engaging Elderly Patients and Their Family Members
At the Family Medicine Clinic of Danville, staff initially had concerns about portal uptake among older patients, but found that some older patients were interested in the patient portal and in using secure messaging. Others preferred to have their adult children access the portal on their behalf. Staff also found that patients with hearing conditions like using secure messaging, as communication by phone is challenging.
One family member explained how his family is able to stay engaged in their elderly mother's care: "My mom's 92 and she doesn't have a computer, but the portal allows me access to her medical records and if she has questions or wants to raise an issue, I can do that for her. I can print out her information and show it to her, and I can submit questions on her behalf as well. It really does give me and my sister an opportunity to check on how mom's doing, look at her medical records, and talk to mom from an educated point of view about her medical conditions and treatment."
Family members also appreciate how easy it is to stay informed about their loved one's care through the portal. Similarly, the clinical summary helps families caring for elderly relatives stay informed and engaged. At BSHC, Pat Willis frequently hears comments like this: "When mom comes back from the doctor, she can't tell us everything that happened. Now we have this summary and we can see what happened in the visit and any changes, like if you discontinued or changed any medicines."
Engaging Patients with Diabetes
Meaningful use has helped to improve diabetes care at both practices. At BSHC, the Certified Diabetes Educator, Angie Conley, RN, BSN, CDE, CPT, uses the EHR system to identify patients who need assistance to better manage their condition. BSHC runs monthly reports of patients who have out-of-range hemoglobin A1c (HbA1c) values and targets them for diabetes education. The diabetes educator works with patients individually and conducts diabetes management classes. The classes are promoted to patients through the patient portal and to the broader community through the local media, the health department, Facebook, and posters and flyers at community locations.
Overall, relatively few patients currently use secure messaging, but the practices are finding it helpful for engaging patients in their diabetes care. Patients can easily communicate with the diabetes educator (at the Family Medicine Clinic of Danville) and providers between visits to let them know how they are doing—for example, to report glucose levels or symptoms, to ask questions, and to get help with self-management.
One patient explained the value of this communication: "It's provided a great deal of peace of mind for me, to know that my doctor knows what's happening with me."
Providers similarly find that using secure messaging between visits helps them to have a more complete understanding of how the patient is managing their diabetes and any issues that need to be addressed.
Both practices provide diabetes education materials to their patients, which are automatically generated based on a diabetes diagnosis entered into the EHR. At BSHC, the educational materials are routinely printed and given to patients at checkout together with the clinical summary, which explains action steps for diabetes care. One ongoing challenge is finding materials that are suitable for patients with limited education and lower literacy.

 
Benefits of Using Patient Portals and Secure Electronic Messaging
As more patients adopt secure messaging, providers and patients are discovering the benefits. For example, Dr. Hempel says that with secure messaging he can carefully formulate responses, looking up information if needed.
An elderly patient at the Family Medicine Clinic of Danville explains the benefits this way: "It is a lot less stressful way to ask questions … you can actually take time to think about everything that you want to say … you're able to clearly divulge and document everything that you want to communicate to your health care provider."
Secure messaging can also help providers stay informed about the patient's situation. Dr. Hempel describes a case in which the daughter provides updates on her elderly father's condition since his move to a nursing home, which allows him to be "more connected with what's going on with the patient."
From the patient perspective, secure messaging strengthens communication with providers. A diabetes patient at the Family Medicine Clinic of Danville describes the combination of online and face-to-face communication as "fairly seamless." When the patient comes for an appointment, "it's as if we've had brief conversations" and the provider is up to date about how he is managing his diabetes.
Benefits of Secure Messaging
| | |
| --- | --- |
| Provider perspective | Patient and family perspective |
| Convenience | Convenience |
| Not rushed—Can take time to compose messages and look things up if needed, so that information is more complete and accurate | Not rushed—Can take time to think about what you want to say |
| Don't have to relay messages via staff or nurses | Easier access to providers |
| Good way to stay informed about how patient is doing | Provider knows more about how you're doing and what happens between visits |
| Provides a record of the communication | Can ask questions you forgot during office visit |
Best Practices for Using Patient Portals and Secure Electronic Messaging
The experiences of BSHC and the Family Medicine Clinic of Danville highlight a number of secure messaging and patient portal best practices:
Pilot test the portal before rolling it out – The practices conducted pilot testing with a small number of providers, staff, and patients to identify and address issues so that launch went smoothly.
Develop a robust promotion strategy – These practices used fliers, posters, staff T-shirts, and the practices' websites and Facebook pages to promote the patient portal.
Educate patients about the benefits – Staff and providers encourage patients to try using the portal and stress the benefits—for example, "You'll be able to reach me directly" or "You'll get your lab results more quickly" or "Save a phone call and send us a message."
Help patients get started – The Family Medicine Clinic of Danville gives patients a simple "cheat sheet" with step-by-step instructions for portal use. BSHC's welcome e-mail uses illustrations showing the steps to get on the portal, such as how to use a hyperlink.
Plan for ongoing technical assistance – Both practices have designated staff to help patients register for and use the portal. This support can be provided via phone or by hands-on assistance at the clinic.
Monitor usage – Both practices track patient registration and monitor the volume of messages sent and received. BSHC sends out reminders and log-in instructions to patients who have registered for the portal but have never logged in and encourages them to try it.
Assess satisfaction – A brief exit survey on the BSHC portal provides ongoing user feedback that the clinic can use to improve the portal experience.
Factors contributing to BSHC's successful implementation of the clinical summary include:
Ensuring the format and content reflect both provider and patient needs and preferences.
Highlighting action items, such as follow-up tests and appointments, and steps to take at home.
Routinely providing the clinical summary to patients at checkout. Providers tell patients to expect it and mention important information such as action items. Front-desk staff also reinforce the value of the clinical summary and highlight key information.
Encouraging patients to share the clinical summary with family members when appropriate, such as elderly patients to share with family caregivers
Established in 1974 with a single community clinic, BSHC currently serves five rural Kentucky counties with its five primary health care clinics and dental services in several locations. Pat Willis, MSN, the Chief Nursing Officer, has championed health IT adoption at BSHC and, together with the CIO, led the implementation of an EHR system in 2010 and a patient portal in 2012. BSHC has been fortunate to work closely with their EHR vendor, Meditab Software Inc., and frequently serves as an informal beta testing site. This relationship allows BSHC to provide feedback for improving new features and functions of the Meditab EHR.
BSHC uses a systematic Plan-Do-Study-Act (PDSA) approach to implement new systems and practices. Using the PDSA approach to implement a patient portal (My BSHCchart), BSHC first conducted a needs assessment to determine priority portal functionalities and workflow changes, and then trained staff and pilot tested the portal with about two dozen interested patients. Several issues identified during pilot testing were addressed before rolling out the portal to the clinics one at a time. BSHC introduced and began promoting the portal to patients several months in advance of launch by using posters and fliers around the clinics. BSHC also began a systematic collection of patient e-mail addresses. User feedback is obtained through a pop-up survey on the portal.
To date, patient response is very positive, with 96% saying they would recommend using the portal to others.
BSHC recognizes that given the characteristics of their patient population (e.g., rural, lower income), only some patients will access and benefit from the portal. Consequently, they also emphasize a printed clinical summary as an effective way to engage patients as well as their family members. BSHC worked with Meditab to develop a user-friendly clinical summary.
The synergy between Pat Willis, a clinical champion, and a "dedicated and forward-thinking" CIO has enabled the successful adoption of health IT at BSHC. Looking ahead, they are planning other health IT innovations that will further benefit patients, including use of text messaging for patient reminders.
Example BSHC Clinical Summary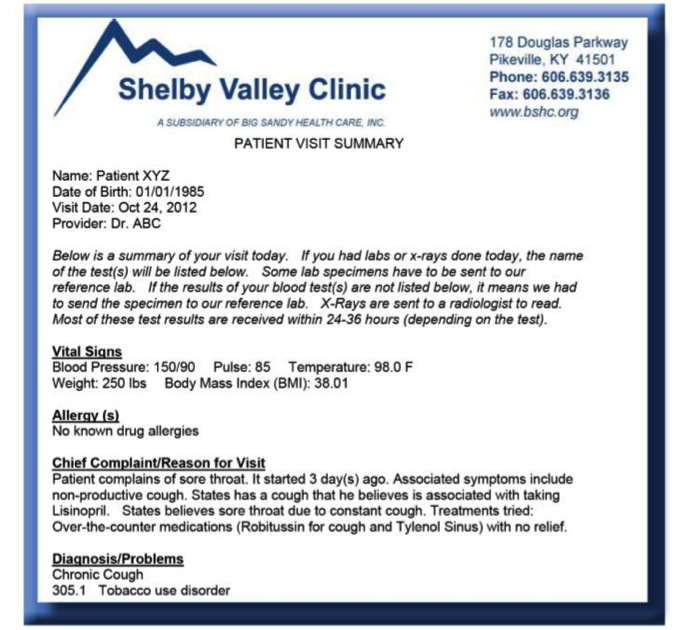 Information included in this example may appear to contain personally identifiable data; however, this data is representational only. No personally identifiable information (PII) or protected health information (PHI) is contained herein.
Family Medicine Clinic of Danville
The Family Medicine Clinic of Danville, located in a central Kentucky town with a population of 15,000, has two full-time and two part-time physicians. It serves a largely rural population base of more than 150,000 people. Established in 1999 by Dr. Richard Hempel, the practice was an early adopter of an EHR system (e-MDs) in 2003. Many of the clinic's patients are elderly, with about 30% of patients receiving Medicare. Dr. Hempel, a family medicine physician, has added qualifications in geriatric care to meet the needs of these patients.
In late 2010, the clinic began implementing a patient portal. Staff created portal accounts and experimented with it before it was fully launched and shared with patients in early 2011. Practice staff understood that the portal would only be a useful tool if patients used it, so they invested significant effort into making patients aware of the portal through the use of posters, fliers, and eye-catching staff T-shirts that read "Ask me about the portal!" In addition, providers and front-desk staff encourage patients to register.
Using the portal, patients can exchange secure messages with their providers, view lab results, and review visit summaries. The clinic's EHR system does not allow a clinical summary to be created prior to closing the visit out, so clinical summaries are either sent to the portal or mailed out the following day.
Centers for Disease Control and Prevention (CDC). (2010). Behavioral Risk Factor Surveillance System Survey Data.
U.S. Census Bureau. (2010). American Fact Finder: Profile of General Population and Household Characteristics 2010.
National Telecommunications & Information Administration (NTIA). (2010). Current Population Survey (CPS) Internet Use 2010.
U. S. Census Bureau. (2010). Percent Urban and Rural by State: Kentucky
Case Studies Category
Meaningful Use
Patient and Family Engagement