2017 ONC Annual Meeting Highlights: Why Burden Reduction and Interoperability Matter
Don Rucker | January 16, 2018

If you've heard me speak in the past few months, you'll know that the focus of my remarks is primarily on ONC's mission to achieve nationwide interoperability and reduce clinician burden relative to health IT.  I emphasize these areas because they are absolutely critical to the health of Americans using our healthcare system.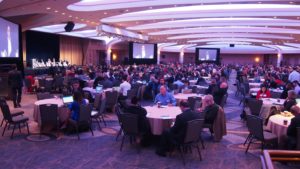 A full house for the 2017 ONC Annual Meeting at the Washington Hilton Ballroom
Photo: Peter Ashkenaz
A few weeks ago, at my first ONC Annual Meeting, I heard a great deal about strategies to achieve these goals from people all over the country; from as far away as Alaska and as close as Baltimore. With about 1,100 attendees, I had the opportunity to chat with many of you and hear that many of you agree that we are on the right track. I am thankful that I had the opportunity to interact with you, hear your thoughts and feedback, and learn about your work.
I was able to attend a few breakout sessions to learn about some of the challenges we face as well as the benefits we can see from health IT. I want to thank everyone for coming and contributing your ideas to the effort to make health data available when and where it's needed. With my background, I was especially interested in those who were on hand to help explain the potential of the Fast Healthcare Interoperability Resource (FHIR), open application program interfaces (APIs), Blockchain, and other technologies that ensure data is securely and safely exchanged. Ultimately, we want to marshal all of this technology to improve health outcomes.
We spent some time during the conference talking – and hearing from many of you – about the Trusted Exchange Framework & Common Agreement (TEFCA) and The 21st Century Cures Act. Those discussions included preventing information blocking and other important provisions of the Cures Act. We have recently released the draft trusted exchange framework and hope this will be a path to smoother exchange of data. We are actively coordinating with the public to understand potential problems and I think we are on track to address them.
We heard how telemedicine and patient portals like MyHealtheVet and Blue Button on FHIR are being used to help rural Veterans and how health IT can enable schools to share important vaccination and other data through electronic registries. My staff and I talked about the Interoperability Proving Ground and I urge everyone to participate in sharing what works using this resource. The nation's patients, their families and caregivers, and other healthcare consumers depend on the tips being used to meet the challenges of interoperability.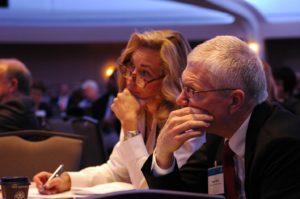 New HITAC member Cynthia Fisher and Columbia, MD-based Physician Assistant Roger Wells
Photo: Peter Ashkenaz
I would also urge those of you who are interested in clinical decision support (CDS) to thoughtfully consider a 2017 publication from the National Academy of Medicine on optimizing CDS to improve care. CDS does improve patient care by helping to avoid adverse drug reactions, for instance.
We also heard patient stories, including those from ONC leaders Genevieve Morris, Lisa Lewis and Jon White. Each of us is, after all, is a patient at some point. CMS Administrator Seema Verma told us how, after her husband collapsed at Philadelphia International Airport and was treated at a nearby hospital, she had asked the attending doctor and care team to provide electronic copies of his tests and prescriptions. What she ended up with was a paper discharge note and a compact disc. We can do better than that.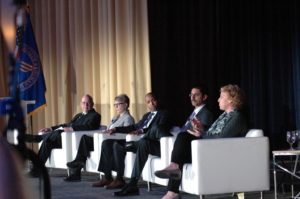 The Usability Panel, led by Dr. Andy Gettinger (L), ONC's Chief Medical Information Officer, and Dr. Tom Mason, ONC's Chief Medical Officer (Center)
Photo: Peter Ashkenaz
Patients and consumers are driving the need for interoperability. There were more compelling stories, including those from people with mental disorders who seek to ensure their sensitive diagnoses remain secure and confidential. I sat in on a session about data segmentation of sensitive clinical records, the data standards for these claims and heard updates on the HHS State Innovation Model and Medicaid section 1115 demonstrations. The speakers touched on efforts to fight the opioid crisis through apps, developed by the Substance Abuse and Mental Health Services Administration, and efforts in Maine to coordinate care via health information exchange for rural Veterans who see non-Veterans Administration providers.
ONC staff has developed a number of modules for our Health IT Playbook that might help if you are a behavioral health provider and early adopter.  There is also a section on efforts to use health IT to fight the opioid epidemic and prescription drug monitoring programs.
Other highlights included a presentation from our partners at the National Institutes of Health about the All of Us campaign and our efforts on the Sync4Genes project, which is moving into its second phase.
If you could not come in person, or watch the streaming video, take a look at the meeting site. My team has also recently uploaded the presentations from the 24 breakout sessions for those who are interested in learning more.
Again, I thank the many attendees, as well as the speakers who gave their time, knowledge and experience to create a robust and meaningful event.