University-Based Training
ONC Health IT Fellows: National Learning from Local Champs
Lisa-Nicole Sarnowski | August 6, 2013

ONC is pleased to announce the selection of 28 practicing providers & office staff from 18 states to serve as the inaugural class of Health IT Fellows. These Fellows are clinicians, office staff and administrative office champions who have taken meaningful use and leveraged it to become more efficient and innovative in their practices.
Health IT Fellows will hinge on past experiences to promote patient-oriented care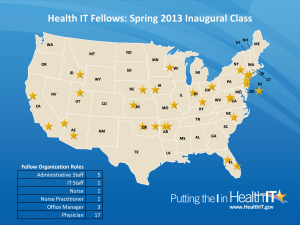 With the Health IT Fellows program, we hope to help other providers overcome challenges faster and more efficiently by sharing key lessons learned. If these lessons are specific and actionable, we can help both providers and patients become more informed – and empowered.
The Health IT Fellows will help promote and focus attention on stories, tools, and technical assistance that can be used in providers' offices nationwide – and to help make these tools better with the goal of keeping the patient at the center of care.
How were the Health IT Fellows chosen?
The Health IT Fellows are practicing health care professionals who have turned their attention toward innovation and improvement in patient care by using and leveraging new technologies in their practices. The Fellows were nominated due to their stature as recognized health IT leaders in their communities, and ONC based their selection on a variety of factors, including:
Experience in leveraging Meaningful Use
How that experience can help other clinicians and office staffs replicate solutions to common problems
Diversity of experience brings unique viewpoints to the Health IT Fellows team
The Health IT Fellows represent a variety of unique viewpoints, as they come from a variety of settings, such as:
clinical backgrounds
specialty backgrounds
locations
practice roles
In addition, many of the Health IT Fellows are already lending their insight to ongoing national conversations—for instance, in areas such as patient safety and implementation of the Million Hearts initiative.
We are honored to have such a dedicated group of champions, and we look forward to moving forward together through our Health IT Vanguards program. We encourage you—providers, office staff, and administrators everywhere—to join in this conversation by telling your story and emailing us at HealthITVanguard@hhs.gov.