Meaningful Use, Rural Health
Wow! Over 1000 critical access and small, rural hospitals meet the Meaningful Use challenge!
Mat Kendall and Leila Samy | September 26, 2013
Last year, we issued a nationwide challenge to see 1000 critical access hospitals (CAHs) and small, rural hospitals get to Meaningful Use by 2014. The call to action was met with support; we could feel everyone roll up their sleeves in unison.
As of July 31, 2013, we passed the goal with 1,115 (65%) CAHs and small, rural hospitals achieving Meaningful Use. Specifically, 62% (approximately 822 of 1,332) of CAHs and 77% (approximately 293 of 383) of small, rural hospitals (those generally with less than 50 staffed beds) had attested to meaningful use of EHRs.
Small Rural and Critical Access Hospitals that Attested to Meaningful Use Cover the Nation
The small rural and CAHs that have achieved this milestone are well distributed across the country – success has not been limited to one region. The map below illustrates the nationwide distribution of the CAHs and small rural hospitals that attested to Meaningful Use.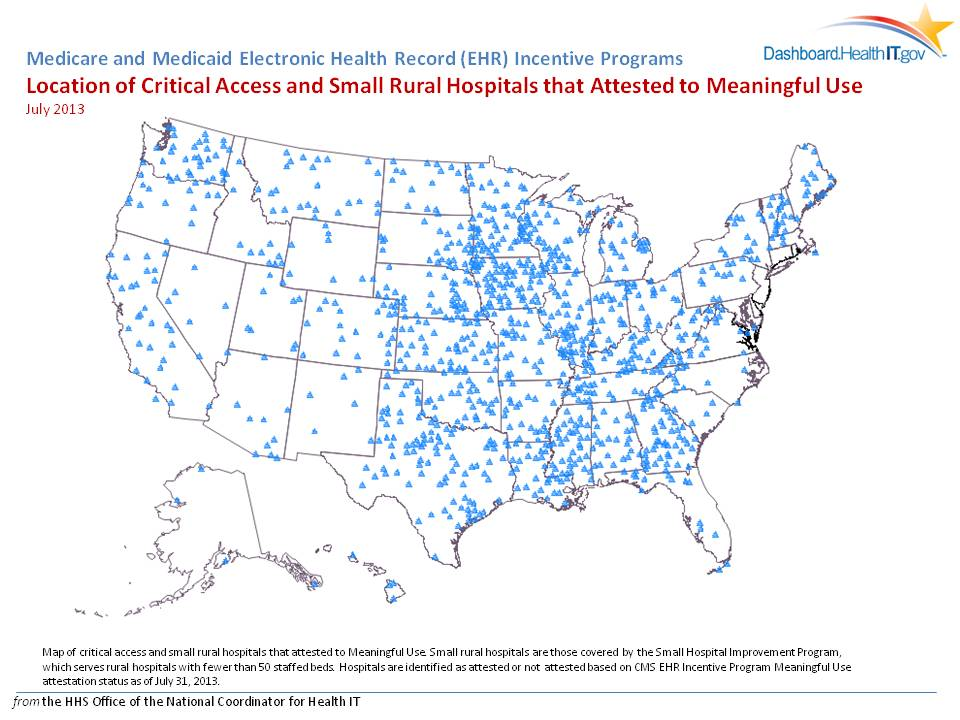 Challenges faced by Small Rural and Critical Access Hospitals Achieving Meaningful Use
These hospitals face unique challenges because of their:
Remote geographic location,
Small size and low patient-volume,
Limited workforce,
Shortage of clinicians,
Constrained financial resources and
Lack of adequate, affordable connectivity
Follow this link for information on how CAHs may overcome challenges to Health IT: http://www.healthit.gov/providers-professionals/benefits-critical-access-hospitals-and-other-small-rural-hospitals
Safety net hospitals made huge gains in Meaningful Use since 2011
With hard work and grit, these safety-net hospitals have made amazing progress since 2011, despite the real challenges they face. The two figures below show the pathway of CAHs and of small, rural hospitals to Meaningful Use, respectively, between January 2011 and July 2013.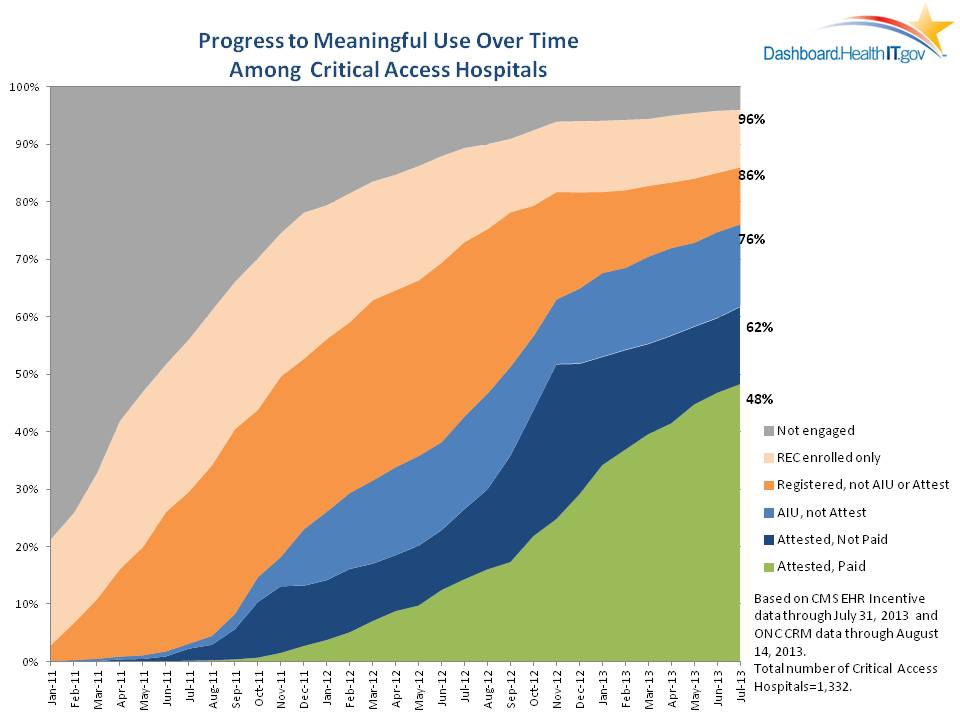 Rising to the Meaningful Use Challenge
Many rural and CAHs are trailblazers; these hospitals are leading the way toward leveraging health IT to transform and improve the delivery of care to their rural communities.  They help us show case leading practices that may help shape the path for other organizations.
Read more about how one CAH in Michigan, Harbor Beach Community Hospital, used Meaningful Use as a jumping off point to accelerate its progress to becoming a certified Patient Centered Medical Home.
2012 and 2013 Critical Access and Rural Hospital Champion Award
While we can't thank everybody, those who received the Critical Access and Rural Hospital Champion Award from the National Coordinator for Health IT Farzad Mostashari in 2012 and 2013 are listed below.  This award recognizes the groundbreaking collaborative efforts these individuals  have taken with public and private sector partners to accelerate Meaningful Use among CAHs and small, rural hospitals nationwide. What we're most delighted to note about this award is that it is also in recognition of continued collaborations since 2012. These awards are not simply for a single instance of dedicated effort.
Critical Access and Rural Hospital Champion Award Recipients
2012

2012

2012

2013

Barry Little

Bill Sonterre

Brock Slabach

Chuck Christian

Harry Wolin

Jac Davies

Joe Wivoda

Kay Gooding

Kevin Driesen

Louis Wenzlow

Lynette Dickson

Melissa Hungerford

Patricia Alafaireet

Patricia Dombrowski

Paul Kleeberg

Phil Deering

Randy McCleese

Roger Holloway

Sally Buck

Shanti Wilson

Tammy Flick

Terry Alexander

Terry Hill

Val Schott

Kathy Whitmire

Bill Menner

David Willis

Ed Gamache

Jessica Zufolo

Kendra Siler-Marsiglio

Mark Renfro

Marty Fattig

Norma Morganti
ONC is continuing to support CAHs and small, rural hospitals in achieving Meaningful Use
Here are four examples of ONC's efforts to support these rural safety-net hospitals:
Rural Community of Practice: We convened experts from across the country dedicated to identifying the most pressing challenges that rural safety-net hospitals face, developing tools and resources for overcoming these challenges and then hand-picking the best among these tools to make publicly available on the healthit.gov Rural Health landing page.  To do so, the group convened the 10 subcommittees focused on:
Tracking progress, needs and challenges
Vendor issues: Pilot vendor-specific meaningful use acceleration efforts
Hospital leadership tools
Adoption and meaningful use roadmap and tools
Demonstrating quality improvement through health IT
Workforce: Grow your own rural health IT workforce!
Consumer engagement: The patient in the center and empowered!
Access to capital
Broadband
Dissemination
Technical Assistance: ONC established support to these safety-net providers as a priority for the Health IT Regional Extension Centers. So far, 1370 critical access and rural hospitals across the nation have enrolled with a Health IT Regional Extension Center for assistance on their path to Meaningful Use.
Situational Awareness:  We tracked and monitored data from a variety of sources on the challenges and progress of CAHs and rural hospitals on their path to adopt and use health IT.
Federal Coordination: With support from the White House Rural Council and in partnership with the Department of Health and Humans Service's Office of Rural Health Policy, we collaborated with Federal and private sector partners, including the US Departments of Agriculture, Labor and Education as well as the Federal Communications Commission—to identify and address health IT infrastructure challenges in rural communities.  We convened in-person workshops with CAHs and small, rural hospitals to expand access to information and federal funding to support their Health IT infrastructure and workforce needs. Two of them were in Iowa and Mississippi.
A collaborative initiative between ONC and USDA Rural Development generated $32 Million in funding to CAHs and rural hospitals across 4 states. For more information about the projects funded for these CAHs, follow this link: http://www.usda.gov/wps/portal/usda/usdahome?contentidonly=true&contentid=2013/09/0181.xml
The Road Ahead for Meaningful Use
As we look to the road ahead, we see that we – and the rural hospitals and providers – are just at the end of the beginning. There is still much work to do in our continued support for rural health care.  We are committed to helping those CAHs and rural hospitals and providers that have yet to achieve Meaningful Use; we are also committed to those that have already achieved Meaningful Use by helping them continue to make progress and use those tools meaningfully.
So, we'll leave you with this figure—a map that shows CAHs and small, rural hospitals that attested to Meaningful Use as well as those that have not yet attested so you can see the success, but also the challenges ahead.