Health Data, Interoperability
Heat Wave: The U.S. is Poised to Catch FHIR in 2019
Steven Posnack and Wes Barker | October 1, 2018
Recent blog posts from the National Coordinator for Health Information Technology  highlight the importance of application programming interfaces (APIs) and how they fit into the 21st Century Cures Act's (Cures Act) implementation. Today, new analysis shows that the United States (US) might be at a turning point when it comes to the adoption and implementation of the Health Level Seven (HL7®) Fast Healthcare Interoperability Resources (FHIR®) standard in health information technology (health IT). To understand how we got to this point, let's recap a few of the public and private efforts leading up to now.
2014 – The Argonaut Project kicked off in late 2014 as a market-driven FHIR accelerator to develop industry consensus around a set of "FHIR Release 2" implementation specifications that could be used to meet the 2015 Edition's API certification criteria.
2015 –

The Office of the National Coordinator for Health Information Technology (ONC) issued the 2015 Edition certification criteria that included functional API certification criteria (but no specific standards were required for the API).
ONC's modifications to the Health IT Certification Program in the 2015 Edition require health IT developers who certify health IT to the API criteria to publicly disclose the technical specifications used. This information is then posted on the Certified Health IT Product List , which ONC added specific shortcuts to, including to API documentation.
Today –

Many companies have gone into production with FHIR Release 2 profiled according to the Argonaut implementation specifications. Apple (with a FHIR-based "client" app) may be the most notable, but there are indications that many other big tech companies are also planning to use the standard.
The Centers for Medicare & Medicaid Services (CMS) has reaffirmed in its rules affecting the Promoting Interoperability Programs (formerly known as the EHR Incentive Programs) that the 2015 Edition will be required in 2019. Equally, CMS has also invested in FHIR through its own Blue Button 2.0
Using CMS and ONC data, we analyzed how health IT developers used FHIR to meet 2015 Edition certification requirements. Additionally, we assessed how hospitals and clinicians' access to 2015 Edition certified-APIs vary across the US. Based on this analysis, we found:
Approximately 32% of the health IT developers certified to § 170.315(g)(8) ("Application access—data category request"), published that they are using FHIR, specifically FHIR Release 2.
Nearly 51% of health IT developers appear to be using a version of FHIR combined with OAuth 2.0.
While the 32% may seem "low" the estimated market share of the health IT developers using FHIR is large. For instance, the table below shows the ten certified health IT developers with the largest market share across hospitals and clinicians (eligible for participation in the CMS Promoting Interoperability Programs) and the FHIR version each developer includes in their 2015 Edition certified health IT. About 82 percent of hospitals and 64 percent of clinicians use these developers' certified products.
| | | | |
| --- | --- | --- | --- |
| Ten Developers with the Largest Market Share | API standard Referenced | % of Hospitals Report Using | % of Clinicians Report Using |
| Allscripts | FHIR Release 2 | 5% | 9% |
| athenahealth | FHIR Release 2 | <1% | 5% |
| Cerner | FHIR Release 2 | 21% | 5% |
| CPSI | FHIR Release 2 | 10% | — |
| eClinicalWorks | FHIR Release 3 | — | 7% |
| Epic | FHIR Release 2 | 21% | 27% |
| GE | FHIR Release 2 | <1% | 5% |
| MEDHOST | FHIR Release 2 | 5% | — |
| MEDITECH | FHIR Release 2 | 20% | <1% |
| NextGen | FHIR Release 2 | <1% | 6% |
| Total |   | 82% | 64% |
Overall, of the hospitals and Merit-based Incentive Payment System (MIPS) eligible clinicians that use certified products, we find that almost 87% of hospitals and 69% of MIPS eligible clinicians are served by health IT developers with product(s) certified to any FHIR version. When estimated for just FHIR Release 2, the hospital percentage remains the same while the clinician percentage drops a bit to 57%.
As shown in the maps below healthcare providers with access to health IT certified using FHIR, especially FHIR Release 2, is widespread. (Note: Hospital Referral Regions (HRR) are used to provide a more accurate picture of health resources and care across the US, than what state and county boundaries can provide. HRRs are often used to spatially visualize health care access and care patterns.)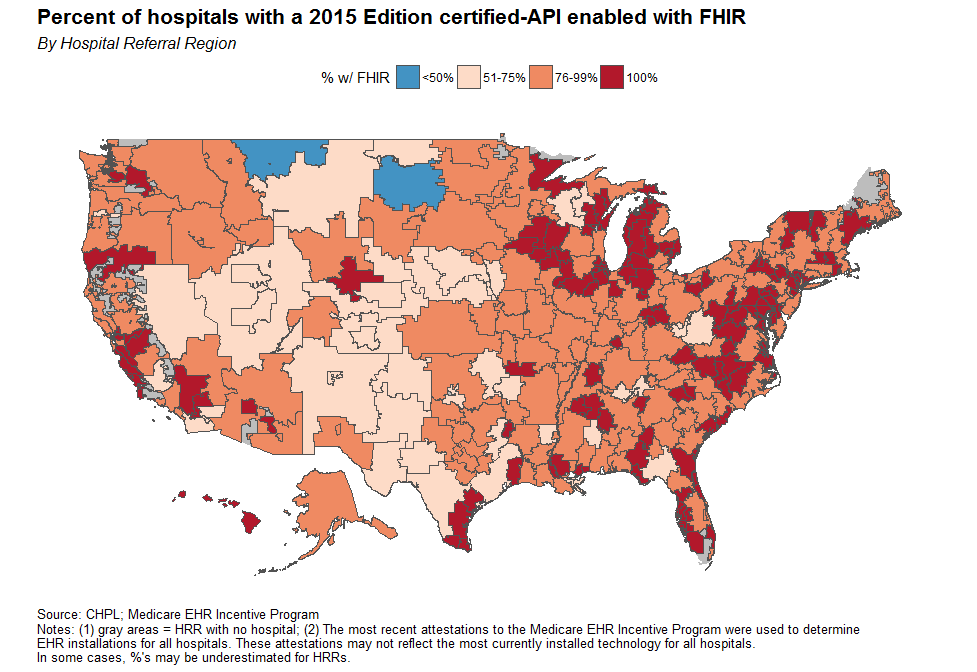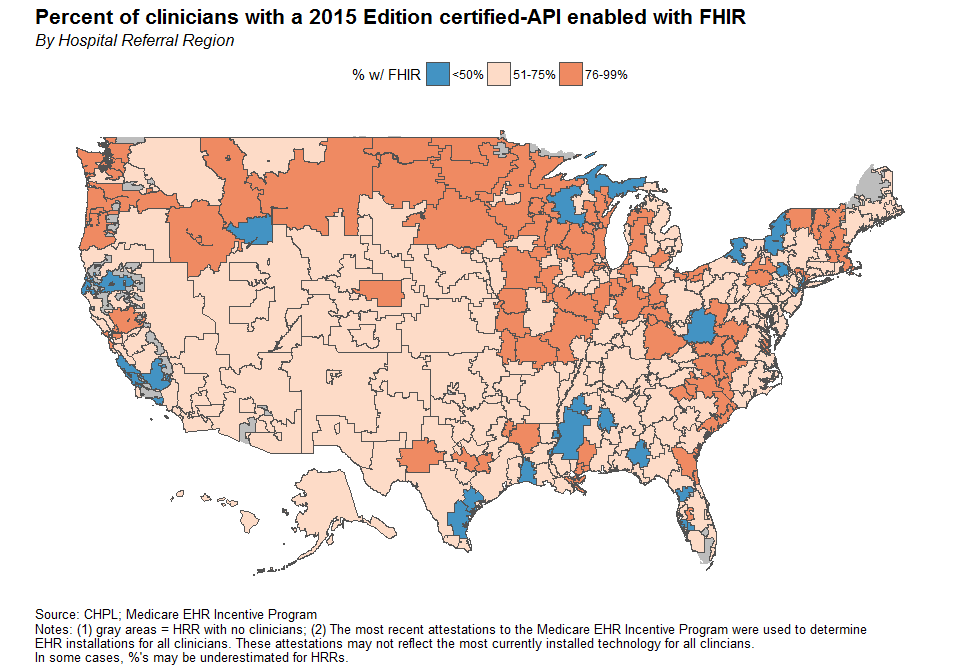 While these data are encouraging, it's not time to pop any champagne. Industry-wide, much work remains from standards development to implementation. So if you are building products and services with FHIR, the standards community needs your help. Additionally, if you're prototyping or piloting something new, consider adding your project to the Interoperability Proving Ground and tag it with "FHIR." Also, stay tuned to the Health IT Buzz Blog for tomorrow's blog post, which will detail more of ONC's FHIR work.
Special thanks to Talisha Searcy, Papia Paul, Chris Monk, JaWanna Henry, Lolita Kachay, and Binnae Bridwell who all contributed to the insights represented in this post.