Health IT
Key Takeaways from the ONC 2020 Annual Meeting
Cannon Leavelle | February 6, 2020

More than 1,200 stakeholders gathered this year in Washington, DC for the ONC's 10th Annual Meeting, Connecting Policy and Technology: Bringing the EHR to the Patient. Among many other health IT topics, attendees discussed patients' access to health information and privacy considerations, health care cost transparency, and the latest updates to health IT standards. If you were not able to join us in DC, you can view the webcast. Slide presentations from the breakout sessions will be made available online in the coming weeks.
So, what did people have to say? Here are some key takeaways from ONC's 2020 Annual Meeting.
Ten years later, we've come a long way, but there's still work to do.
ONC's first Annual Meeting in 2011 gathered Health Information Technology for Economic and Clinical Health Act HITECH grantees to talk about strategies to advance EHR adoption rates. Since that time when the smartphone was a brand new technology, EHR adoption has more than doubled in both physicians' offices and hospitals. Today, EHRs are almost ubiquitous, but the ability for patients to access their data and shop for their care in an informed way is not. Panelists, speakers, and attendees alike at the Annual Meeting all wanted to know: how do we free the data?
Patients want access to their records, and they deserve it.
The main topic of conversation at the meeting was, "how do we increase patients' access to their data?" On the main stage, in breakout sessions, and on social media, many shared both success stories and their frustrations. Many pointed out that increasing access was not only good for the patient, but good for business as well. But ensuring patient privacy was a key thread throughout these conversations. Deven McGraw pointed out on stage, "the ability of individuals to access data about them is a hallmark of privacy," although industry and policymakers alike still must ensure that data is secure. On the same panel, Cynthia Fisher described transparent data sharing as critical to restoring trust and accountability in the marketplace.
The technology exists, but the policies need to catch up.
We heard about standards for clinical data and financial transactions, technology for matching you with your (snail) mail, and how leading innovators are using application programming interfaces and the HL7® FHIR® standard to advance access. And yet, these technologies are not always working in sync. Several new and proposed policies from HHS – including ONC's and CMS's proposed interoperability rules and the Trusted Exchange Framework and Common Agreement – are set to move the nation one step closer to making these technologies work for the patient.
Everyone is paying attention to health IT.
Annual Meeting attendees ranged from health IT developers to software executives; doctors and nurses to healthcare administrators; and local, state, and federal public health officials. We heard remarks from Congressman Bill Foster (D-IL) about his role in drafting legislation asking HHS to examine unique patient identifiers. Staff from the Senate HELP and the House Energy and Commerce Committees told us about Congress' ongoing interest in health IT advancements via the 21st Century Cures Act. And, HHS Secretary Alex Azar shared his own recent experience of trying to access his medical records from two different providers back home in Indiana.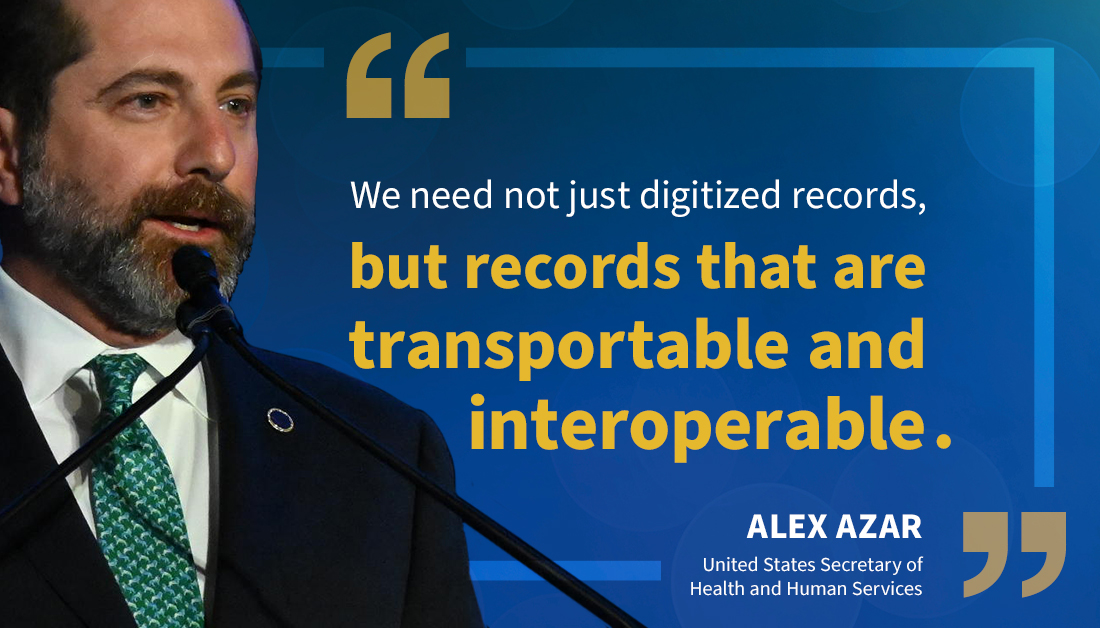 Notably, leadership from HIMSS, HL7, and IHE International announced an exciting new international collaborative, the Global Consortium for eHealth Interoperability.
In addition to these key events, the meeting featured a wide variety of breakout sessions on topics including measuring interoperability, the use of health IT in disasters, and projects that support public health through the novel use of health IT.
Thanks to everyone who joined us – both in-person and online – at this year's Annual Meeting. ONC's largest yearly stakeholder gathering is a fantastic opportunity for us to share what's on the forefront of advancing effective health IT for the American people, and for us to hear from you. All of us at ONC look forward to seeing you at next year's Annual Meeting! (And remember to save the date for the ONC Interoperability Forum, August 10-11, 2020 in DC.)