Health IT
Effective Patient Matching to Support the Interoperability of Controlled Prescription Data
Carmen Smiley and Brian Fung | October 1, 2019
As new public health crises emerge, health information technology (health IT) needs to evolve to enhance health care professionals' ability to make informed clinical decisions, conduct reporting, and exchange health information.
Earlier in September, the Office of the National Coordinator for Health Information Technology (ONC) hosted a one-day symposium to hear from stakeholders about the intersecting issues associated with opioids, patient matching, and Prescription Drug Monitoring Programs (PDMPs).
PDMPs as a Tool to Address the Opioid Epidemic
Nearly two years ago, HHS declared a national public health emergency to address the nation's opioid epidemic. Health care provider use of PDMPs was identified as one tool to help curb this epidemic. The seamless exchange of patient data between disparate systems such as electronic health records (EHRs), health information exchanges (HIEs), pharmacies, and PDMPs relies on the alignment of a complex set of regulatory, process, and technical capacities. Effective patient matching and identity management with respect to PDMPs could improve patient privacy, security, safety, and overall health.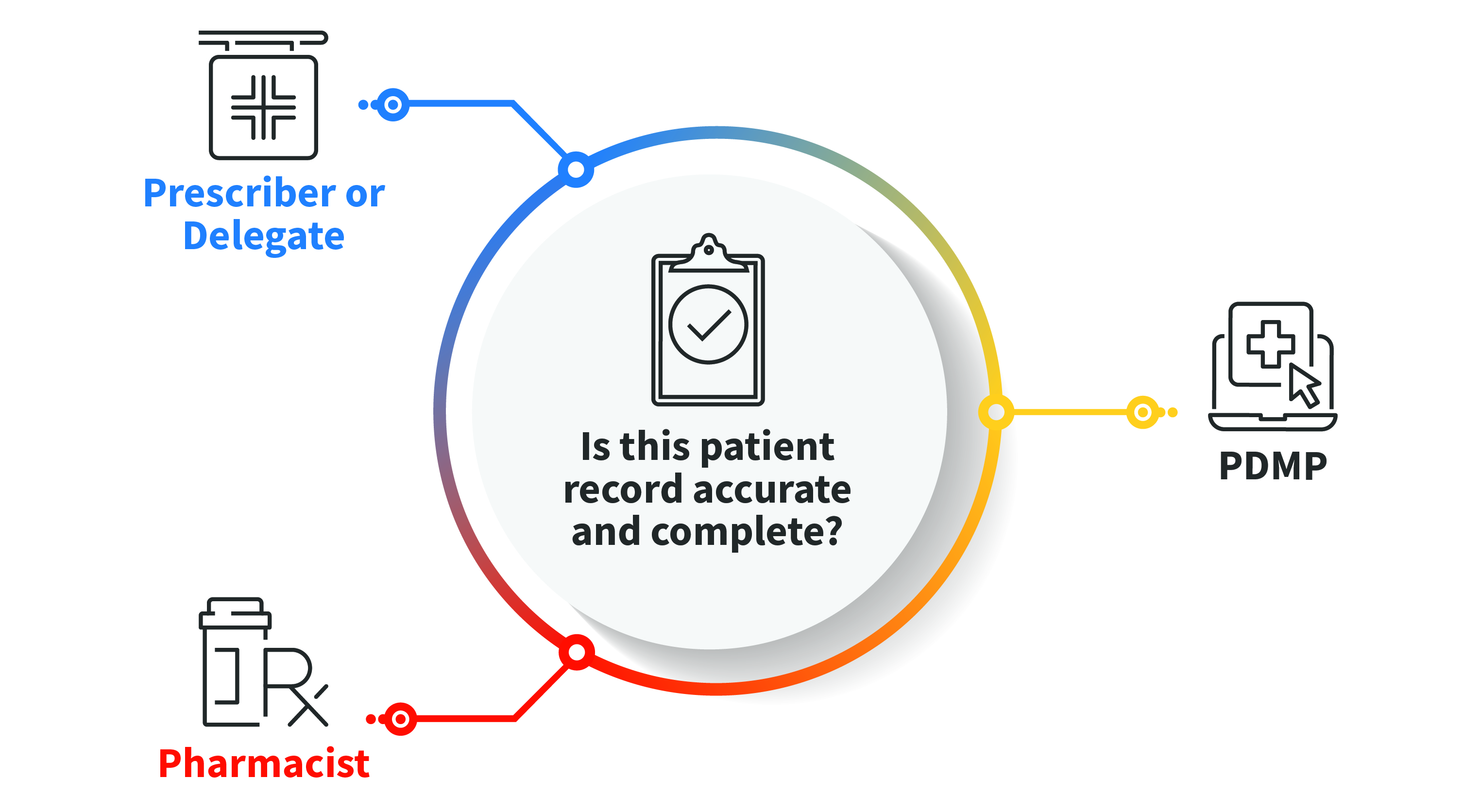 Indeed, ineffective PDMP patient matching approaches can potentially impede ready access to accurate, complete, and timely prescription data. When a patient's information is accurately matched, it can greatly assist clinical efforts to deter opioid misuse, provide counseling, and prevent overdose deaths.
When a patient's information is accurately matched, it can greatly assist clinical efforts to deter opioid misuse, provide counseling, and prevent overdose deaths.
ONC Symposium on Patient Matching for PDMPs
Leveraging health IT to address the opioid epidemic requires open, public-private approaches and consensus-based standards. To bring these ideas to life, ONC hosted a one-day PDMP symposium focused on patient matching on September 6, 2019. This symposium brought together PDMP administrators, data sharing hubs, standards development groups and standards experts, health IT developers, representatives from community pharmacies, researchers, and a number of other stakeholders to discuss patient matching challenges and opportunities to support the interoperability of prescription data.
The purpose and objectives of the symposium included:
Discuss the unique problem of patient matching within and between PDMPs;
Educate and engage stakeholders from across the prescribing industry;
Foster collaboration and coordination efforts; and
Identify challenges and opportunities.
Attendees were able to ask questions, respond to real-time polls, and engage in discussions throughout the day. In one poll, attendees were asked to provide a "one word" description for the top barrier to PDMP interoperability. The word cloud below represents all of the responses submitted throughout the day (the larger the word the more people responded using that that word).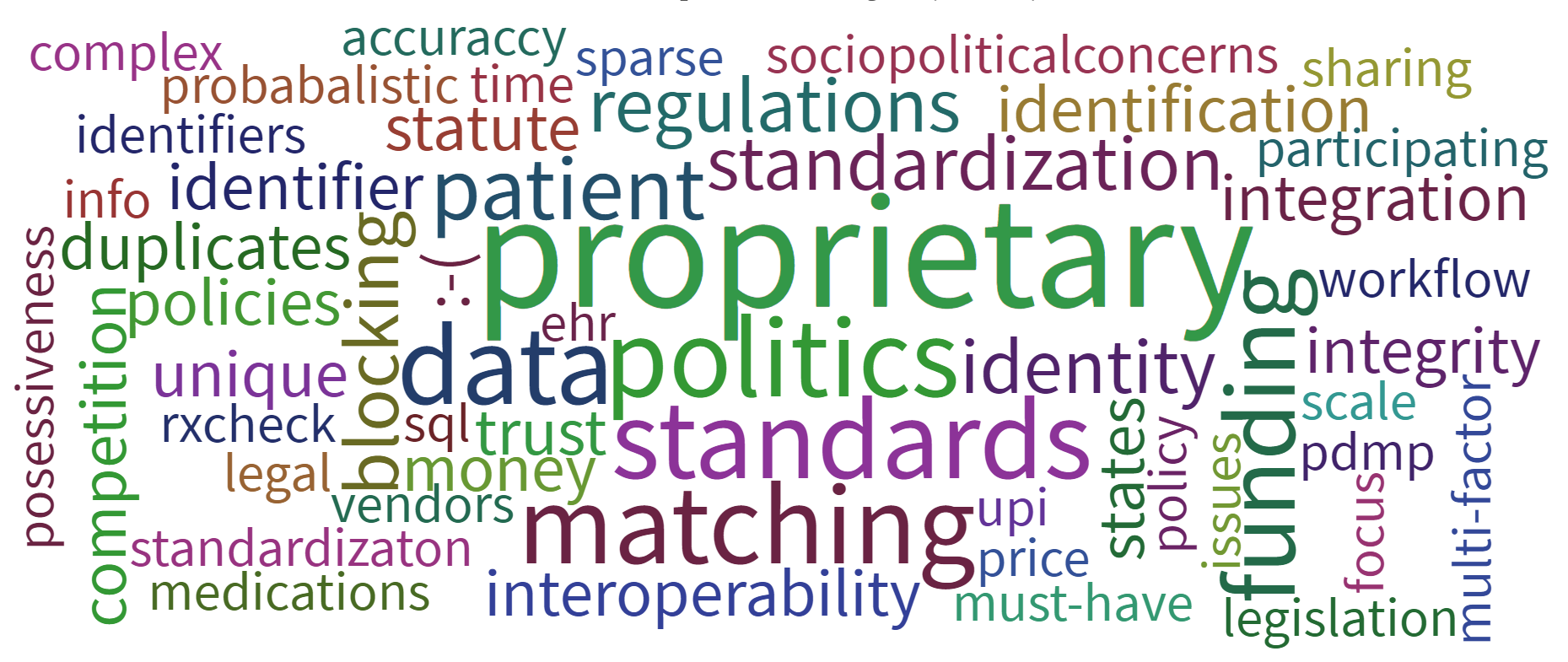 Participants heard perspectives from CVS Health, Kroger Health, and the Pharmacy Health IT Collaborative, as well as from a variety of standards development organizations such as the National Council for Prescription Drug Programs, American Society for Automation in Pharmacy, Prescription Monitoring Information eXchange, as well as Health Level Seven International Fast Healthcare Interoperability Resources experts from the CARIN Alliance and the Centers for Disease Control and Prevention.
The core session featured PDMP administrators and stakeholders from Utah, Kentucky, Nebraska, Maryland, and California who discussed challenges and opportunities to support effective patient matching, including variabilities in state policy and a need for improved alignment. Attendees also heard from a number of health IT developers working in this space, including representatives from Cerner, EPIC, Appriss, 4Medica, and Experian. The National Association of Boards of Pharmacy and representatives from ONC and the Centers for Medicare & Medicaid Services also provided input to the discussion.
Call to Action
The symposium's keynote speaker was Aneesh Chopra (former US Chief Technology Officer) who encouraged everyone at the event to continue to participate in the advancement of interoperability nationwide. He urged attendees to engage in standards development, advancement, implementation, and other coordination and consensus efforts to address the unique and difficult challenges patient matching poses to PDMPs.
Editor's Note: No recordings are available, but presentations from the symposium will be available on the symposium website soon. Please monitor the ONC email blast for announcements.