Background
The Global Digital Health Partnership is a collaboration of 33 countries and territories, the World Health Organization (WHO), Organisation for Economic Co-operation and Development (OECD), and The International Digital Health & AI Research Collaborative (I-DAIR) formed to support the effective implementation of digital health, exchange global best practices, and advance mutually beneficial projects. The GDHP provides opportunities for worldwide participants to exchange best practices for data sharing, electronic health records, ePrescribing, patient access, etc. The GDHP's vision is to "support governments and health system reformers to improve the health and well-being of their citizens through the best use of evidence-based digital technologies." The GDHP is the world's only existing government-to-government global health IT partnership, and the GDHP strives to identify international best practices for the use of health data to advance health and health care, provide opportunities for networking and knowledge transfer, and facilitate horizon scanning to more accurately forecast emerging trends. The GDHP was established in 2018 to fill the gap that existed where country governments were not working together as a whole to advance global digital health together.
In January 2018, HHS became a founding GDHP participant. ONC leads these efforts for the US and coordinates with US federal agencies to ensure the US position on digital health is aligned (e.g., HHS Chief Technology Officer's Office, HHS Food and Drug Administration, HHS Office for Civil Rights, Department of Commerce). This multi-national organization supports governments and health system reformers to improve the health and wellbeing of their citizens through best use of digital technologies.
As of today, the GDHP participants range from 6 continents; 33 countries and territories that represent over 2.8 billion people; and the WHO, OECD and I-DAIR.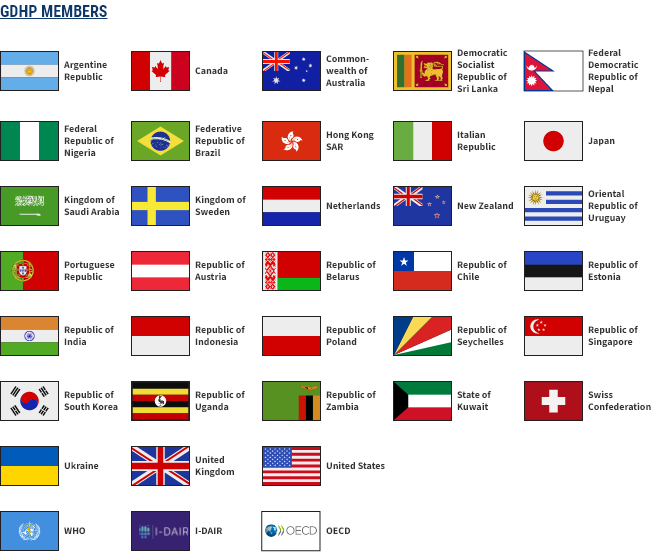 As digital health continues to expand at a rapid pace globally, the GDHP continues to serve as a sounding board for digital health leaders and experts to collaborate on key topics. In the short time since its inception, the GDHP has reached great strides and is poised to continue advancing key elements of digital health that have short-and long-term benefits to strengthening health care systems worldwide. ONC will continue engaging with our global partners to share ideas and advance projects that help make health care around the world better, safer, and healthier.
Work Streams
The GDHP works through a variety of means, including through five work streams that convene to plan, share best practices, and create deliverables that help patients, caregivers, health care providers, health care systems, and national governments.
1. Interoperability Work Stream
Overcome patient data sharing challenges between health care providers, health organizations, caregivers, and patients.
Determine the path forward for addressing interoperability challenges through standards and technology.
2. Clinical and Consumer Engagement Work Stream
Improve digital health literacy, and understand the role of co-design for patient and clinician needs for better health and care across the globe.
3. Cyber Security Work Stream
Strengthen the protection of health care devices, systems and networks, and data in them, from security and cyber risks.
4. Policy Environments Work Stream
Identify government's role in supporting digital health technology for health system reform.
Addressing privacy and consent issues when sharing patient health data.
5. Evidence and Evaluation Work Stream
Share methods of digital health evaluation frameworks and concrete examples of lessons learned from digital health benefits evaluations and strategies.
ONC's Role with the GDHP
The HHS Secretary designated ONC to serve as the lead US representative to the GDHP with participation from the HHS Office of the Chief Technology Officer. ONC's National Coordinator for Health IT (National Coordinator) chairs the GDHP Interoperability Work Stream and facilitates key discussions and projects to advance interoperability across the GDHP countries and territories. The National Coordinator has led exercises, such as developing a health data standards crosswalk across the GDHP participant countries and territories, to better understand the interoperability landscape that nations use. There are also ONC leads on each of the remaining four work streams to ensure the US' perspective, efforts, and expertise is included in those work streams' deliverables and discussions.
GDHP Deliverables
GDHP White Papers
In 2019, all five GDHP work streams developed separate white papers in their subject matter areas to share country and territory experiences. The white papers outlined the landscape of the GDHP participants' in digital health interoperability, cyber security, policy environments, clinical and consumer engagement, and evidence and evaluation. These white papers provide GDHP and non-GDHP countries and territories with guidance on key digital health projects, best practices, and opportunities that can lead the world to improving the health and well-being of people around the world.
In 2020, all five GDHP work streams continued their efforts in their focus areas and released a second set of white papers that build upon the first series of white papers. These white papers provide countries and territories with an update on what is occurring throughout the world in digital health. The white papers also include recommendations for the GDHP work streams on how they can work together to advance global health IT.
Interoperability Work Stream: Health Data Standards Crosswalk
The ONC National Coordinator for Health IT directed an exercise for this work stream to develop a health data standards crosswalk that identifies each of the health data standards countries and territories are using so the viewer can easily compare and contrast. Not all countries and territories provided responses for this crosswalk.
Country
/Territory
Standard
HL7® v2
HL7® v3
HL7 CDA®
HL7 FHIR®
IHE
OpenEHR
ISO
ICD (9 / 10 / 11)
SNOMED CT
LOINC
DICOM
Argentina
 
 
 
✓
✓
 
 
✓
✓
 
 
Australia
✓
✓
✓
✓
✓
✓
✓
✓
✓
✓
✓
Austria
✓
✓
✓
 
✓
 
 
✓
✓
✓
✓
Brazil
✓
✓
 
✓
✓
✓
 
✓
 
 
 
Canada
✓
✓
✓
✓
✓
 
✓
✓
✓
✓
✓
Estonia
 
✓
✓
 
✓
 
 
✓
✓
✓
✓
Hong Kong SAR
✓
 
✓
 
 
 
 
✓
✓
✓
✓
India 
✓
 
✓
✓
 
✓
✓
✓
✓
✓
✓
Italy
✓
✓
 
 
 
 
✓
✓
✓
✓
✓
Japan
✓
 
✓
 
✓
 
✓
✓
 
 
✓
Kingdom of Saudi Arabia
✓
✓
✓
✓
✓
 
✓
 
✓
✓
✓
The Netherlands
✓
✓
✓
✓
✓
 
 
✓
✓
✓
✓
New Zealand
✓
 
✓
✓
 
 
 
✓
✓
✓
✓
Poland
✓
✓
✓
✓
✓
 
 
✓
✓
 
✓
Portugal
✓
✓
✓
✓
✓
 
✓
✓
✓
✓
 
Republic of Korea
✓
 
✓
✓
✓
 
✓
✓
 
✓
✓
Singapore
 
✓
 
✓
 
 
 
✓
✓
✓
✓
Sweden
✓
✓
✓
✓
✓
✓
✓
✓
✓
 
✓
Switzerland
✓
✓
✓
✓
✓
 
 
✓
✓
✓
✓
United Kingdom
✓
✓
 
✓
✓
 
 
✓
✓
 
✓
United States
✓
✓
✓
✓
✓
 
✓
✓
✓
✓
✓
Uruguay
✓
✓
✓
✓
✓
 
 
✓
✓
✓
 
Total Countries/ Territories Using
19
16
17
17
17
4
10
21
19
16
18
International Patient Summary
The GDHP Interoperability Work Stream is chaired by the National Coordinator for Health IT of the US. One of the work stream's efforts is the International Patient Summary (IPS). In December 2010, US/HHS and the EU's Directorate-General for Communications Networks, Content, and Technology (DG CONNECT) signed a memorandum of understanding (MOU) to galvanize cooperation on advancing digital health in both regions. The MOU focuses on three areas: interoperability, workforce, and innovation. ONC leads efforts for the US with this MOU. One interoperability and standards project that stemmed from this work is the IPS. The IPS is an electronic health record extract that was developed with the primary use case of providing support for unscheduled, cross-border patient care. ONC recognizes the importance of being able to have a patients' data follow them wherever they go so that they can retrieve the data when and where it matters most. The value sets are based on global vocabularies that are usable and understandable in any country. This means that key pieces of patients' health data can be transferred between countries so emergency care providers can use this data to provide patients with personalized care. ONC is leading these efforts for the US. Learn more about the IPS efforts.
Cyber Security Work Stream Medical Device Manufacturers Internet of Things (IoT) Code of Conduct
ONC, on behalf of the Cyber Security work stream, hosted a webinar in February 2020 on the IoT Code of Conduct. This Conduct enumerates cyber security best practices for medical device manufacturers with the goal of providing baseline guidance, recommendations, and considerations.
ONC solicited feedback through a public comment period (ended on March 31, 2020) to mature the final guidelines for medical manufacturers. Learn more about this effort and submit your comments on the Code of Conduct.
GDHP Summits
GDHP summits are an opportunity for the participants to convene for brainstorming sessions, exchanging subject matter expertise, and discussing health IT topics in a direct manner through government-to-government means. The first GDHP summit was held in Canberra, Australia in 2018. This inaugural summit established the activities of the five work streams and the first set of deliverables. Subsequent summits in the US, the UK, India, and Hong Kong SAR, India (virtual), and the US (virtual) provided a regular platform for collaboration and facilitated the development of white papers and other projects. The GDHP continues to meet virtually as the world battles the COVID-19 pandemic.