Step 5: Achieve Meaningful Use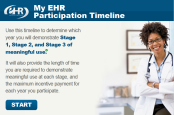 Use this timeline to determine which year you will demonstrate Stage 1, Stage 2, and Stage 3 of meaningful use.
It will also provide the length of time you are required to demonstrate meaningful use at each stage, and the maximum incentive payment for each year you participate.
The Medicare and Medicaid EHR Incentive Programs provide a financial incentive for achieving "meaningful use", which is the use of certified EHR technology to achieve health and efficiency goals. This section provides an overview of the Stage 1 and Stage 2 EHR meaningful use core and menu objectives for eligible professionals (EPs) as outlined by CMS – which are intended to set a baseline for electronic data capture and information sharing.
The meaningful use objectives are grouped into five patient-driven domains that relate to health outcomes policy priorities. As depicted in the dashboards below, each core and menu objective is aligned to one of the following domains:
Improve Quality, Safety, Efficiency
Engage Patients & Families
Improve Care Coordination
Improve Public and Population Health
Ensure Privacy and Security for Personal Health Information
"Achievement of meaningful use is the backbone of a practice's ability to gain recognition as a PCMH. A medical practice that has achieved meaningful use is 40% of the way to functioning as a PCMH."
-Dr. Douglas Ashinsky, MD, Somerset Medical Center/Warren Internal Medicine
Read about Dr. Ashinsky's improved health care quality through integration of EHRs
Care Coordination Tool for Transition to Long-Term and Post-Acute Care
This tool is designed to inform EPs and EHs of key clinical information for inclusion in summary of care records when transitioning patients to LTPAC facilities.