Tuesday, November 27, 12 pm-5 pm ET and Wednesday, November 28, 9 am-5 pm ET
Washington Hilton
Kalorama Room
1919 Connecticut Ave. NW
Washington, DC 20009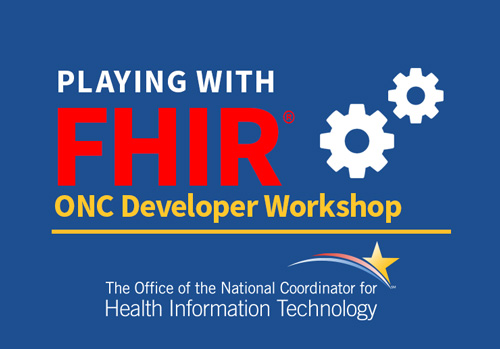 Playing with FHIR® is an opportunity for health IT developers to take a deep dive into HL7's FHIR® (Fast Healthcare Interoperability Resources) standard. FHIR® server resources and sample data will be available for participants to work on new ideas and applications, while testing tools will be available for applications that are more developed. Population-level data access will be a primary theme, in addition to Blue Button 2.0, CDS Hooks, and Da Vinci Coverage Requirements Discovery. The Workshop seeks to catalyze new ideas and approaches to using FHIR® to solve interoperability issues.
Developers who wish to participate can be new to health IT, have an established software application, or anywhere in between. All that's required is an interest in getting your hands dirty with FHIR®!
Please note that registration for this event is limited. The event begins at noon Tuesday – there will be no lunch break, so please eat lunch beforehand or bring it in with you.
If you have any questions, please contact us using the Health IT Feedback Form and click the "ONC Events, Media, and Web Inquiries" radio button under Category Feedback.
Registration
12:00pm-12:15 – Kickoff by Office of the National Coordinator for Health Information Technology (ONC)
Steve Posnack, Executive Director, Office of Technology, ONC
12:15pm-12:30pm – Population Data Access and Bulk Data API
Ricky Sahu, CEO, 1upHealth
12:30pm-12:45pm – FHIR®-PIT (Pilot Interoperability Testbed)
Wendy Couturier, Product Manager, Michigan Health Information Network (MiHIN)
12:45pm-1:15pm – MITRE FHIR® Testing Tools
Rob Scanlon, Lead Software Engineer, The MITRE Corporation
1:15pm-1:25pm – Introduction to HL7® Da Vinci Project and ONC Payer + Provider (P2) FHIR® Task Force
Stephen Konya, Senior Innovation Strategist, ONC
1:25pm-1:55pm – Da Vinci Coverage Requirements Discovery (CRD) and CDS Hooks
Andy Gregorowicz, Principal Software Systems Engineer, MITRE
Richard Ettema, Senior Architect and Lead Developer, AEGIS.net, Inc.
1:55pm-2:05pm – Blue Button 2.0
Mark Scrimshire, CMS
2:05pm-5:00pm – Open work time
9:00am-4:00pm – Open work time
4:00pm-5:00pm – Wrap-up and debrief