Vanguards: Voices from the Field
ONC continues to engage office staff, providers, and other grassroots stakeholders through the newly established Vanguards program, consisting of Meaningful Use Vanguards and Health IT Fellows.
MUVer Meaningful Use Vanguards (MUVers)
Local Stories, National Lessons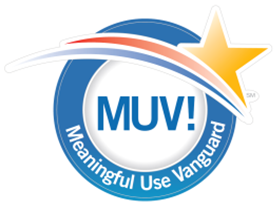 The Meaningful Use Vanguards (MUVers) are a prestigious group of providers, office staff, and administrators who are making Meaningful Use meaningful in their organizations and are champions of Health IT both at their organization and in their local communities. MUVers share their lessons from the field with their peers on how they have overcome specific challenges in meeting and leveraging meaningful use.
Want to learn more from a MUVer? The below map is populated with MUVer-identified challenges faced in their journey towards Stage 1 Meaningful Use and cross-referenced with resources and tools, including Profiles in Health IT which feature MUVers and HIT Fellow stories. Click on the "MUVer Map Key Resources" links to learn more! We would like to thank the Regional Extension Centers (RECs) who worked with these 2,600 historical MUVers, representing 574 practices at 1,177 sites, to overcome their challenges and empower MUVers to share their lessons with others.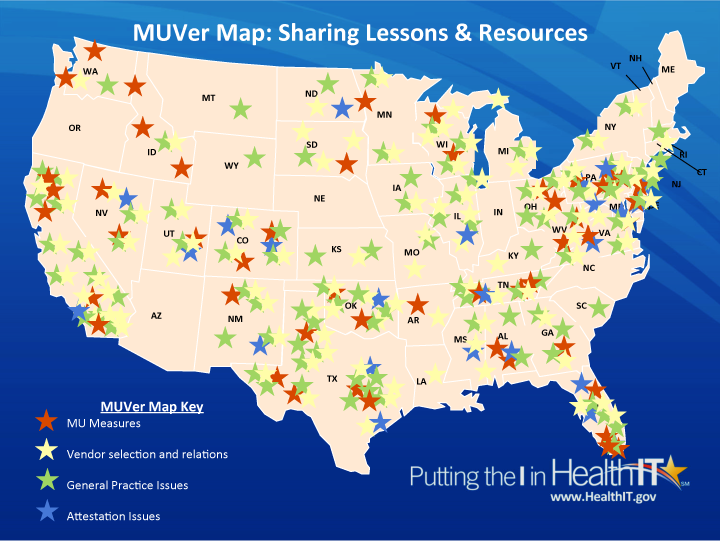 *MUVer Map information is listed by REC service area and is not geocoded or indicative of regional or other patterns or individual practices. Further, while the challenges information submitted by MUVers pertained to Stage 1 Meaningful Use, the resource links provided pertain to Stage 2 Meaningful Use in an effort to continue to provide you with relevant and timely information.
Health IT Fellows
From Local to National Leaders
The purpose of the Health IT Fellows ("Fellows") is to provide grassroots insight and critical feedback/critique of appropriateness, clarity, and effectiveness of resources, tools, and other technical assistance initiatives of the ONC and others geared towards their peers. Fellows are clinical champions in their practices and local communities, serving as advanced primary care providers and administrators proficient in the use and understanding of health information technology to drive care delivery transformation, with a particular eye to the specifics of HOW this transformation happens. Fellows are empowered to ensure these and other resources are realistic, authentic, and clear to their colleagues in an effort to ensure that all messages and tools resonate with the provider and practice community.
How Do I Get Involved?*
Tell Your Story! Take 10 minutes to email us at HealthITVanguard@hhs.gov with a brief overview of your organization's journey to meaningful use and tangible ways you are leveraging Health IT daily. Some examples of stories we've received from HIT Vanguards including:
Want more? Check out our case studies & data pages for more lessons from the field.
Want to get involved? Our Health IT Vanguard program team will follow-up with you to discuss joining the Vanguards and getting your organization on the map! If you have any questions, please contact us today.
*The goal of the Vanguard program is to share successes and connect like-organizations so that there may be a nationwide peer-to-peer learning network. Therefore, tell us something you find useful for others!