Sharing CDS Interventions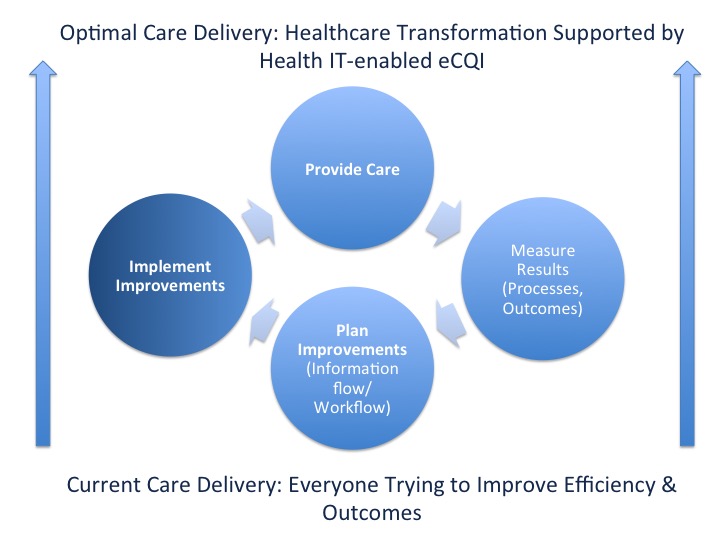 As described in the ONC Health IT Enabled QI Vision Paper [PDF - 1.2 MB], the goal of a robust, electronically supported clinical quality improvement ecosystem is to enable healthcare providers and patients to access the highest quality, most up-to-date information necessary to make the best decisions to improve health and health care. Clinical Decision Support (CDS) is a critical tool for providing such information, intelligently filtered, at the times and in the ways needed to influence care.
Historically, however, individual provider organizations have had to rely on self-developed or custom built CDS tools in their health IT systems, which can be challenging and time-consuming for many providers and often represents a missed opportunity to reduce rework across systems. As outlined in the eCQI vision paper, ONC has been working with a wide variety of stakeholders to create and encourage use of standards to make CDS more easily shareable and implementable so that any organization can easily acquire and deploy CDS. This work also includes developing sharable CDS interventions that could be published in a future repository or library.
Sharing standardized CDS interventions has a number of important benefits including:
Reducing the latency for incorporating new clinical knowledge and evidence-based guidelines into clinical practice
Improving efficiencies and time to implement CDS in clinical practice
Improving consistency of how CDS is deployed across care providers, patients and health care systems
To learn more about current efforts to create and harmonize standards for CDS, visit the eCQI standards page in the eCQI Resource Center.
To implement CDS in your practice, visit our Planning and Implementation Improved Care Processes page.
To familiarize yourself with the Agency for Healthcare Research and Quality's (AHRQ) efforts to stimulate the discovery of ways to influence high quality care through CDS sharing research and demonstration projects, read about the CDS Initiative and its Findings and Lessons from CDS Demonstration projects [PDF - 2.7 MB].
To follow AHRQ's efforts to assist users of health IT enabled CDS to incorporate and share the most up to date patient-centered research findings, best practices, and lessons learned into clinical practice through a standardized structured format, and to develop a process for receiving feedback from health care providers, patients, health IT developers, professional associations, and payers on shared CDS information check the AHRQ Projects Funded by the Patient-Centered Outcomes Research Trust Fund often.