Thayer County Health Services
Thayer County Health Services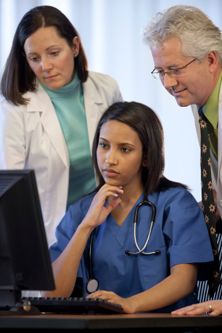 Thayer County Health Services: Health Information Technology in a Critical Access Health System.
Thayer County Health Services (TCHS) which consists of five rural health clinics and a 19 bed critical access hospital (CAH) has gained a national reputation for innovation through its efforts to implement electronic health records, computerize physician order entry (CPOE), and engage in the secure and interoperable exchange of health information for the benefit of the county's residents.
In March 2010, TCHS participated in a demonstration of a network of networks through which health information can be securely and quickly exchanged to provide patient data to a physician when needed. In this demonstration, California-based Redwood MedNet and TCHS joined together to link their respective health information exchanges to share live patient records. The demonstration showed how patient laboratory information, medication history, and continuity of care documents (CCDs) can be made available in real-time to improve patient care and eliminate costly duplication of services such as lab tests. This exchange was made possible by the use of an open source platform built on the foundation of the open source CONNECT software developed under the Office of the National Coordinator for Health IT.
At first glance, the system's small, 19-bed hospital that serves 1,700 people in the immediate service area and 5,000 people in the entire county, would hardly be considered as a center for innovation in the national effort to advance health Information technology. But the TCHS CEO Joyce Beck views the county health system's mission not only to be the major provider of health services in the area but also to be a leader in the adoption and meaningful use of health IT and providing an electronic health record for all Thayer County residents.
Ms. Beck, a 41year veteran in health services administration, was inspired by the national commitment to advance health information over the past decade. Recognizing the potential for health IT to improve the care in her community, Ms. Beck sent one of her physicians to California to meet with vendors to learn about EHRs. He came back and made it clear: he wanted to implement electronic health records at Thayer. In 2008, TCHS applied for a Federal Critical Access Hospital Flex Grant for electronic health records and was chosen as Nebraska's representative. As one of 16 hospitals in the nation chosen for a Flex grant, TCHS received $1.6 million.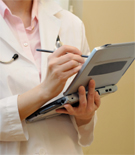 Ms. Beck envisioned seven goals where Thayer County residents could benefit from adoption of an electronic health record. They are:
Build a bridge with emergency medical services;
Improve effectiveness and efficiency of the Critical Access Hospital (CAH);
Improve connectivity with pharmacy services;
Connect with tertiary hospital services (located some 90 miles from the county);
Improve connectivity with satellite clinics;
Improve communication with long term care and assisted living; and
Address the safety and security of clinical information.
The first goal is grounded in the TCHS belief that the health system's responsibility to its patients begins when the patient dials 911. Once the Emergency Medical Service provider informs the hospital about the patient in crisis, an attachment goes to the E-NARSIS (e-Nebraska Ambulance Rescue Service Information System), a newly implemented, web-based, statewide data system. For example, if needed, the EMS attaches a 12-lead EKG to patient and electronically sends it to the hospital allowing for not only a pre-hospital 12-lead EKG but also the arrival of the 12-lead EKG prior to that of the patient. This information in turn can be forwarded to the tertiary hospital if more specialized care is necessary.
Improving connectivity to the pharmacy was a key goal to improve patient safety. The county hospital reports reveal a dramatic difference that electronic record keeping has had on patient care. In the first quarter of 2004, prior to the EHR implementation, TCHS recorded 48 "true" medication errors or instances where patients ingested the wrong medication. Those errors have decreased to 6-8 medication errors per quarter.
Another measure of success in addressing prescription errors is through the system's adoption of electronic prescribing, which has contributed to a big improvement in the medication reconciliation rate. (Medication reconciliation is the process of avoiding inadvertent inconsistencies across transitions in care by reviewing the patient's complete medication regimen at the time of admission, transfer, and discharge and comparing it with the regimen being considered for the new setting of care.) TCHS reports showed a 23% medication reconciliation rate prior to implementing e-prescribing. Medication reconciliation is now 100% with all participating physicians. Ms. Beck reiterates, "What we are doing is improving care."
At TCHS an important factor for their health IT implementation was the desire to change the organization's culture when implementing the technology. "We tried to change our culture to allow people to speak up… Everyone decides to use the technology differently…It adds to our success that we are letting people to do it their way," Beck said. Her message is: "I am here to support you in practicing medicine the way you want to." In addition, the health care staff is very positive about the level of care they are now able to provide. "The excitement in this building is unreal. Our people are so proud of what we are doing. I am proud of the motive for what we are doing: it's all for the patients."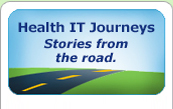 Email us your story at
onc.request@hhs.gov. If the story has been published, be sure to include the name of the publication, the date of publication and a link to the article. Read our disclaimer.
Thanks for sharing your story!

Patients have also adopted the implementation as part of their own care. "The community recognizes the value of TCHS's health IT adoption, and some private donors have contributed monetarily to continue the efforts. The hospital's website online survey has even revealed that patients want more than the hospital system can currently provide. "They want portals that give them their own lab work and personal records. We can download their records already onto USB bracelets. People wear their bracelets and are so proud of them. It's been unbelievable." Ninety-percent of the USB bracelets go to the community's elderly patients.
One of the next steps for Thayer County Health Services is to integrate the community's long term care component, which is a significant piece of their continuum of care. Presently, each long term care facility in Thayer County has access to Clinical View, a clinical information system that allows physicians access to patient data. The county's assisted living residents were also the first to be taught on-line appointment scheduling, allowing them to schedule their own appointments.
Additional goals included connections to the Veteran Affairs and tertiary care hospitals; connections to burn, trauma, and cardiac centers; and use of telehealth in the emergency room to connect with a nationwide health information network. The vision for Thayer County Health System is to have all health information be electronic, and to have a system that is totally paperless, can be viewed from multiple locations, and enables communication across boundaries.
The results? A rural health system that provides continuity of care, empowers the patient, and improves the quality of care for all.