Heart of Texas Community Health Center
Heart of Texas Community Health Center

As part of their core mission of providing essential health services to the underserved, Federally Qualified Health Centers (FQHCs) can be leaders in innovation, especially in the adoption of health information technology to benefit patient care. One model worth examining is the Heart of Texas Community Health Center, Inc. (HOTCHC), an FQHC with a target population that includes the 90,200 residents of McLennan County, Texas living at or below 200% of Federal Poverty Guidelines (FPG).
Thirteen years ago, HOTCHC leadership set a course toward implementation of electronic health records (EHRs). Their goals drew upon the desire to increase efficiencies and to create a system that would improve HOTCHC's twin missions of patient care and graduate medical education. Anticipated benefits of EHR adoption were the enhanced compliance with patient care guidelines and the reduction of medical errors. But it was also important to faculty to augment medical resident education by teaching residents to use an EHR system as an integral part of their practices. In addition, HOTCHC leadership recognized the potential for EHRs to assist them in supervising residents and improving analysis of the residents' clinical experience. The planning exercises ultimately envisioned that the cost of implementation would be offset through more effective charge capture, improved efficiency, and by leveraging available funding.
Planning and implementation of HOTCHC's EHR initiative was a community effort involving three organizations. The McLennan County Medical Education and Research Foundation (MCMERF) oversees all academic and research programs, while the Waco Family Practice Foundation (WFPF), composed of both physician and business leaders, oversees all capital assets. HOTCHC supervises all clinical activities and operates as an FQHC.
Residents in family medicine see their assigned panel of patients at HOTCHC's Family Health Center (FHC), the main clinical site for ambulatory primary care services. Only part of residents' time is spent at the FHC because they divide their days between attending clinical lectures and their rotations at one of the two local hospitals. Since those hospitals are located several miles away from the FHC, and residents sometimes go for several days without physically entering the FHC, the faculty recognized early on that remote access to EHRs would provide tremendous benefits to the residents in managing their assigned patients. With remote access to the EHR system they could address patient calls, refill requests, view lab results, and have immediate access to office records of patients being admitted to the hospital through the emergency department.
More important than the staff efficiencies were the anticipated benefits of EHRs to HOTCHC's diverse patient population as a result of EHR adoption. Diabetic care was one of the main targets of quality improvement and disease management efforts from the very beginning of implementation planning. Approximately 12 percent of office visits involved diabetic patient care, and there are more than 3,000 diabetic patients in the local area. The disease has resulted in a tremendous amount of morbidity and mortality in the area's patient population. Care access would also be improved as EHR implementation would support the tremendous need for expanded safety net services in the community and be a key component for future care expansion plans.
The community health center is a major Medicaid provider in McLennan County serving primarily children and pregnant women. Infusing health IT into the care process would help provide more effective outreach services to children, increase childhood immunization rates, and improve care to prenatal patients by making their current prenatal office records immediately available from the hospitals. Finally, when remote access to medical records became available for clinics, nursing homes, and hospitals there would be a significant positive impact on community care coordination and preventive care initiatives.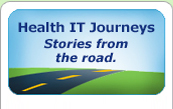 Email us your story at
onc.request@hhs.gov. If the story has been published, be sure to include the name of the publication, the date of publication and a link to the article. Read our disclaimer.
Thanks for sharing your story!

HOTCHC secured funding for EHR implementation in 1997 and at that time, HOTCHC's staff had significant experience with a health IT vendor's practice management system. As early adopters of an EHR system, they had a significant impact on its initial development, which resulted in a very good working relationship between the clinical staff and the vendor's key personnel. Because of the close relationships, the vendor generously offered to donate their EHR software to HOTCHC for the implementation.
Prior to going live, HOTCHC redesigned its core workflows to be sure to maximize functionality of the new EHR system. Next, staff were trained on the EHR system using real life clinical scenarios. A staged "go live" approach was planned where HOTCHC would make a nurse and/or a physician super-user available to answer any new user questions, with ongoing vendor support.
HOTCHC's EHR system is now fully operational and includes fully implemented billing, registration, scheduling, EHR, and reporting systems. Integration of the EHR with billing and scheduling allows a provider to view a patient on their schedule as soon as an appointment is made. When a patient arrives and is checked in their arrival is indicated on the provider's schedule. All appointments, including no-shows and cancellations, are viewable from the EHR.
All but one of the HOTCHC remote sites and one local hospital are connected to the main site with long range radio frequency wireless technology. Others connect via T1 connection, public WiFi, and HOTCHC's virtual private network (VPN). To maintain continuity of operations, offsite backups can be used to restore the system in case of a catastrophic event and are located at the system's main site.
With implementations complete and the system in use by all medical providers and clinical staff the actual benefits of the EHR system exceed what was originally thought possible. Important benefits achieved through HOTCHC's adoption of EHRs include:
Remote Access: The benefits of remote access support clinical care for nursing home patients. Now, the nursing supervisors have the ability to send an electronic message within the EHR to the primary care physician of a nursing home patient that includes lab results and notifications of problems such as a fall, fever, or a change in mental status. Use of remote access has markedly reduced the number of phone calls to the physician office and has dramatically decreased the response time of physicians to that type of communication.
Resident Education: Residents benefit from rapid electronic communication with faculty members and reports that document the details of their training experience.
Compliance with Practice Guidelines – Childhood Immunizations: In less than a year the system helped raise the percentage of children 19-35 months of age who had received all recommended immunizations from 67% to over 80%.
Medication Error Prevention: An instant improvement was realized in reduction of medication errors because pharmacists no longer had to decipher physician handwriting. Additionally, the EHR performed immediate allergy and adverse drug interaction checking with every prescription written. Patients with active prescriptions for drugs that had been recalled were easily identified in the system so that they could be contacted quickly.
Care Access: System data was used to analyze patient panels, access, and waiting times which enabled steps to control the flow of new patients by altering the number of new patient slots in the appointment templates. These changes led to improved access and continuity as well as markedly improved provider satisfaction.
Quality Improvement: In an effort to reduce health disparities, HOTCHC has participated in joint efforts associated with diabetes, cardiovascular disease, access and redesign and optimizing clinical care health disparities.
The Heart of Texas Community Health Center considers their implementation of health IT a success. Their leadership states that the effort towards EHR implementation had the right people on the leadership team, the right product/vendor, and the good fortune to obtain a significant amount of funding at a critical time in the project.
For more than 40 years, U.S. Department of Health and Human Services Health Resources and Services Administration (HRSA)-supported Health Centers have provided comprehensive, culturally competent, quality primary health care services to medically underserved communities and vulnerable populations. Community Health Centers are community-based, patient-directed organizations that serve populations with limited access to health care including low income populations, the uninsured, those with limited English proficiency, migrant and seasonal farm workers, homeless individuals and families, and those living in public housing.