Cooley Dickinson Hospital
Cooley Dickinson Hospital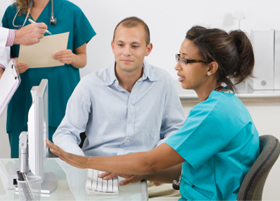 EHR adoption marks a time of rebirth for Massachusetts hospital.
Residents of the Pioneer Valley of Western Massachusetts – home to the five-college region of Amherst, Smith, Mount Holyoke, UMass, and Hampshire colleges – are passionate collectors of old books and documents. Yet, at the same time, Cooley Dickinson Hospital (CDH), the 142-bed facility that serves the region, has abandoned the printed page for computer technology for its collection of patient information. This community hospital, which serves an increasingly diverse community, made the decision to adopt an electronic health record (EHR) to improve patient care, increase efficiencies, and reduce costs.
Like most community hospitals across the nation, Cooley Dickinson historically was an entirely paper-based hospital. Starting in the early 1990s, however, the hospital examined innovative technologies for care improvement, and at that time purchased a clinical system to help bring nursing order entry, pharmacy order entry, labs, diets, and radiology into the electronic arena. Although those systems improved hospital management, CDH's administration determined that the existing electronic infrastructure was not compatible with its strategic goals to move into the EHR age. In 2000 a new, more clinically robust system was purchased, and IT strategies were designed to tie together inpatient and outpatient worlds and improve continuity of care for patients while providing the clinical link between all providers.
The first evidence of more efficient care as result of health IT became evident when the Director of Emergency Department Informatics was able to use Electronic Decision Support (EDS) solutions to quickly help redesign workflows and control lab costs. In this case, a simple adjustment of the order sets was able to discourage the use of high-cost labs with little clinical evidence to support their use, and instead encourage use of lower-cost labs with better clinical evidence. This quick workflow redesign allowed the hospital to rapidly reduce lab costs and improve patient care.
Essentially, the decision to go electronic required a significant investment in time and money, but the resulting changes have brought clear benefits to the patient population, physicians, managers, and others. As a result of implementation, physicians now have a better understanding and control of clinical processes and outcomes, better control of medication formulary, and better control of costs. Improved medication safety, increased use of evidence-based medicine, increased use of continuous quality improvement, and an overall improved level of patient care are crucial payoffs for CDH.
Implementing this magnitude of change at CDH presented some challenges, however; allocating resources to clinical education (both nursing and physician education), to workflow redesign and order set building, and to clinical Informatics (order set design, workflow analysis and design, policy updates, formulary updates, etc.) were formidable. Additionally, reorganizing committee reporting responsibilities to meet the needs of these new clinical efficiencies presented a real but surmountable challenge for the hospital.
Physician and patient response to implementation
Physician response to the electronic process, on the whole, has been overwhelmingly positive. While there are always some individuals who have resisted change, most CDH physicians recognized the movement towards electronic order entry and electronic documentation as steps in the right direction. Regarding the movement to an electronic world, the CMIO Dirk Stanley, MD, MPH, summed up physicians' response to implementation: "I really feel that this electronic transition is a remarkable labor of love, for our hospital, for the field of medicine, and for the American healthcare system…. Although it takes coordination and effort, the transition has been a time of rebirth for our hospital, combining the best of our old practices, with the best of the new. I like knowing that the changes we're making in clinical medicine today will benefit my own child when he reaches my age someday."
Success Enablers
Building this platform required several actions by CDH leadership and staff. Senior Executives had to make management and budgeting decisions in a rapidly changing financial environment. The Quality Management Department, Medical Executive Committee, and other hospital committees reviewed, and sometimes redesigned, their information and committee workflows. The clinical staff was challenged with learning new technology, new terminology, and redesigning some of their core clinical processes. The IT department was required to increase its performance in budgeting, designing, and delivering solutions on time. The Chief Information Officer assumed the task of managing complex IT implementations and budgeting decisions in a rapidly changing landscape. Finally, Clinical IT staff, working together with a core team of Embedded Clinical Informaticists, was recognized as key to quick and safe implementation of the changes.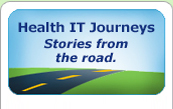 Email us your story at
onc.request@hhs.gov. If the story has been published, be sure to include the name of the publication, the date of publication and a link to the article. Read our disclaimer.
Thanks for sharing your story!

After building this initial platform, CDH continued its efforts to improve efficiency, safety, and privacy through various ongoing projects. One is implementation of voice recognition technology to help speed up physician documentation. Another is a patient/provider portal, which enhances both physician-patient and physician-physician communication (as directed by the patients). There also are projects for enhanced security as well as closed loop medication management. Additionally, the hospital will look to the Health Information Technology for Economic and Clinical Health Act (HITECH Act) and its implementing regulations to help develop future healthcare IT strategies.
Experience with Health Information Exchange
In 2006 CDH launched an initiative to create a health information exchange (HIE) within its regional medical community. To build this exchange, CDH recognized the need for a higher EHR adoption rate by physicians throughout the community and the potential for CDH to assist in this process. In April of 2007 a vendor was selected to assist providers in the community with the adoption of EHRs.
To date, the HIE encompasses more than 25 practices involving nearly 100 providers. As CDH continues to expand the clinical information available for electronic transmission, the hospital also is investing in the infrastructure needed to transform these point-to-point data streams into a full and robust electronic data exchange. The goal is to achieve a full community HIE to improve the continuity of care, reduce health care costs by reducing unnecessary duplicate testing, and implement portals to improve patient and provider access to necessary health information in 2011.
Recommendations from CDH for other community hospitals considering EHRs:
Begin the planning process early.
Do an honest, early review of your current workflows, order sets, documentation, policies and protocols.
Prepare for significant organizational change/committee reorganization.
Prepare for an increased need to devote resources to clinical education of both physicians and nurses, compliance/regulatory questions, and development of new nursing / clinical policies.
Network with other hospitals in your region so you can understand mutual goals and develop mutually beneficial solutions.