Cherokee Indian Hospital
Cherokee Indian Hospital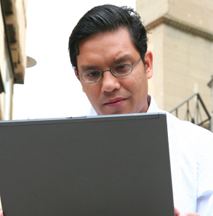 There are more than 14,000 members of the Eastern Band of Cherokee Indians, most of whom live across a five-county area in the mountains of western North Carolina. Through partnership with the Indian Health Service (IHS), the Tribe has led the way in applying information technology to improve health outcomes. In Cherokee, N.C., the Cherokee Indian Hospital (CIH) is the primary medical home and public health provider to its Cherokee Indian residents. The hospital and satellite clinics serve an important role in the community as the outpatient department logs an average of 22,000 primary care visits per year, and the emergency department sees an additional 20,000 visits each year. The hospital itself is small, with just 20 inpatient beds, 10 emergency department rooms, and 22 outpatient clinic exam rooms. Despite its comparatively small scale relative to larger hospital networks, CIH has nevertheless made the commitment to becoming a 21st century health center.
The hospital was an early adopter of health information technology (health IT), implementing the IHS Resource Patient Management System (RPMS). CIH was the first IHS facility to implement the RPMS system in 1986. Nineteen years later, a full EHR system with decision support was implemented to increase the continuity of care and interface with the nearly 150,000 e-prescriptions per year. In 2002, CIH decided to make their hospital the most cutting-edge it could be and adopt the latest comprehensive RPMS -- at that time still in early testing phases -- and, by 2005, that dream became a reality.
There were multiple reasons influencing CIH's updated implementation of the RPMS. It was an obvious choice because the updated implementation meant continuity of data from their existing patient information database going back through the 1980s, but accessed by modern technological updates. The hospital found that the system would support numerous functions, including patient lookup and management of personalized patient lists, and computerized physician order entry for lab interfaces to name a few. RPMS is now used in the ambulatory clinic and satellite clinics by all disciplines and clinical staff levels, including:
Doctors
Nurses
Social workers
Dieticians
Physical Therapists
Pharmacists
Dentists
As with any significant office change, there were considerable organizational cultural adjustments needed to successfully implement the new EHR. Emergency room doctors had concerns that the new system would slow them down as they documented patient encounters. Hearing the provider resistance, the CIH emphasized that all physicians were responsible for producing better patient outcomes, regardless of whether they used the EHR system or not. As a result of that internal messaging, and the positive results from the use of the updated RPMS system, physician concerns decreased noticeably as those not actively using the system saw their peers starting to achieve better clinical outcomes. Physicians initially unfamiliar with the updated system became supporters once they realized that health IT was enabling the hospital to improve health care quality for its Cherokee population.
However, the EHR implementation also highlighted some gaps in some of the care processes at CIH. To address the inefficiencies in their operations management and clinicians completed process mapping for activities such as patient visits, billing, pharmacy, labs, inpatient nursing, and supply chain. The inefficient processes were then re-engineered to add in the recommendations from the process mapping in order to increase the effective use of the RPMS. A key expectation of updated EHR implementation was the improvement of patient care services as measured using a standardized electronic tool called the Clinical Reporting System (CRS). The tool is now able to analyze performance on over 300 clinical measures, which are collected by the performance management team and reported quarterly. Among the reported measures:
Domestic violence screening showed a dramatic increase from 1% to 80%
Tobacco screening nearly doubled from 43% to 80%
Alcohol screening increased from 4%to 82% in women of childbearing age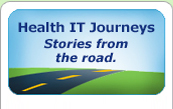 Email us your story at
onc.request@hhs.gov. If the story has been published, be sure to include the name of the publication, the date of publication and a link to the article. Read our disclaimer.
Thanks for sharing your story!

Other outcome measures such as desired levels of blood pressure and LDL-cholesterol – two key bellwethers of cardiovascular disease – also improved shortly after implementation. The system continued to report sustained improvements even after increases in patient population and hospital staff turnover. However prior to the system's implementation, CIH's clinical staff could not have predicted the increased openness of physician to patient communications that their new EHR system would afford them. The system generates a patient wellness handout and a diabetes care summary that encourages conversation and reminds both providers and patients of standards of care. In many cases, the clinicians found improved screening was itself therapeutic as patients became more aware of their own conditions. Patient awareness opened up the exam room for qualitative conversations such that it was acceptable, even expected, that such conditions be talked about regularly. The increased access to comprehensive patient data also required CIH to address data security issues. The job of data security fell to the Medical Record Administrator (MRA), who was charged with safeguarding the information in medical records against use by unauthorized persons, loss, defacement, or tampering. The duties of the MRA mandated a hospital policy for access to medical records by staff. After implementing the security policy and maintaining tight security standards, CIH found that the security of its RPMS was considerably better than the previous paper chart security methods. The process of overhauling the legacy system created several learning opportunities for CIH. It became clear that an implementation team was important to obtaining staff buy-in for system use. The CIH team consisted of both "back" and "front" office personnel, including clinicians. Recognizing the staff would need support after the new EHR went "live," the group advised hospital management on issues as they arose until all departments were successfully acclimated to the new system. CIH also recognized it would have to define, document, and conduct drills on backup system operations and processes in the event of a system outage or power loss. The newly documented processes would be included in the hospital's continuity of operations plan. Finally, CIH makes maximum use of templates for documenting clinical information, eliminating free form text entry where possible, thereby making patients visits more efficient. CIH has useful recommendations for other hospitals embarking on an EHR implementation:
An implementation team is very important, and it should have cross-functional representation (including medicine, pharmacy, nursing, lab, medical records, and IT).
Train a "super user" or two in every department who can subsequently train other users in the hospital. This helps make health IT a shared responsibility across the care continuum and eventually leads the way to more efficient and high quality health care delivery.
Implement a system of information feedback on key clinical indicators. Use your clinical leaders to validate and deliver this information, and to motivate the providers. While it is equally important to track financial and service indicators, it will be the improvements in clinical indicators that will get your providers on-board.