Measuring Care Processes and Outcomes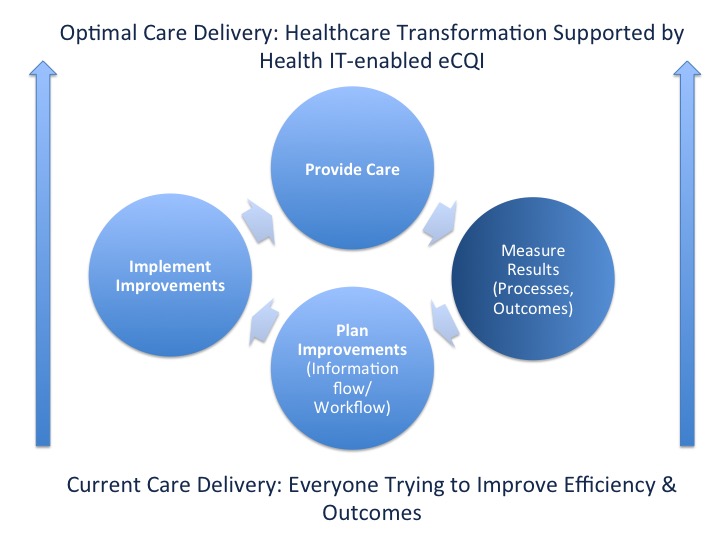 Our health system is shifting to a greater focus on quality care, reinforced through value-based reimbursements. The need for relevant, timely, and precise information to support and enable continuous cycles of quality improvement is increasing. Health IT enabled clinical decision support (CDS) tools and processes can provide this information whenever it's needed to help insure that best care practices are universally applied.
Clinical quality measures allow for performance tracking as improvements are made, and progress toward national shared goals of better care, smarter spending, and healthier people to be quantified.
Electronic clinical quality measures (eCQMs) are a tool used to quantify and track healthcare quality performance in a standard way. eCQMs are derived from information stored in and shared by health IT systems, such as EHRs and patient registries. They convert information about care processes or outcomes into a rate or percentage that allows providers, facilities, and patients to measure and evaluate aspects of care including: clinical management, intervention effectiveness, patient safety, efficient use of health care resources, care coordination, patient and family engagement, population and public health. eCQM reporting, including population health indicators, is required for several federal incentive programs.
Measuring quality not only provides tangible feedback to clinicians and other health care team members on their improvement efforts, it also informs consumer and purchaser choices about providers. Quality measures also drive provider and facility reimbursement now that federal and private insurers are shifting to value-based payment programs. Measurement is thus a key engine for optimizing healthcare.
Additional Information
Understand clinical quality measurement basics and view current electronic clinical quality measures and updated specifications.
Learn how clinical electronic quality measures are developed and improved.
Achieve measurable quality improvement.
Learn how quality measures are deployed by the Centers of Medicare & Medicaid Services.
Understand what electronic clinical quality improvement is and how it can help you.