Palm Beach Obstetrics & Gynecology PA
Palm Beach Obstetrics & Gynecology PA

The Town of Palm Beach, Florida was established in 1894 and is recognized as America's first resort destination. For more than a century Palm Beach county's population has grown rapidly, placing it in the top 30 most populous counties in the nation. So when Palm Beach Obstetrics & Gynecology PA, was established in 1993 it was only natural that the practice would grow with its expanding patient population. The practice is a full service Ob/Gyn office originally started by a single practitioner, Sam Lederman, MD. As a computer science major and a physician, Dr. Lederman was interested in electronic health records (EHRs) from the moment he opened for business. Since then the group's provider base has grown to include five physicians, a nurse midwife and a Nurse Practitioner working out of two offices and four hospitals. The group offers a variety of services including annual examinations, obstetrical and gynecological care, and hospital emergency room coverage to name a few.
From the day the practice's doors opened, scheduling, billing and collection functions were all computerized. In the mid 1990's, information technology was not developed enough to integrate any further into its operations. However, the practice's growth and the addition of more practitioners meant there was an increasing need to improve the office's efficiency. They were drowning in paper health records, and access to important patient information was a major problem.
An observer of the health IT industry, Dr. Lederman realized that improvements in the quality of software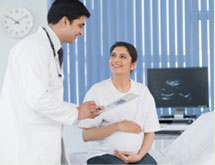 and hardware combined with the availability of lab interfaces for EHRs meant he could attain the efficiency he sought while building a platform for the practice to deliver higher levels of quality care to their patients. Those anticipated benefits were what the practice had been waiting for to initiate its implementation of an EHR system.
As Palm Beach Obstetrics & Gynecology considered the switch to an EHR system, they realized it had to address a multitude of practice needs while meeting their return on investment (ROI) goals. The EHR adoption would be funded up front by the physicians, with the recognition that their ROI would be realized through the increased efficiency of the practice, multiple cost savings, and more accurate coding.
Highly important among the practice's needs were eliminating time spent hunting for paper charts, improving clinical documentation, and reducing the problems inherent to deciphering illegible handwriting. Additionally, lab and radiology reports available electronically would reduce errors in reviewing the reports. The practice sought to reduce delays in obtaining and acting on patient results and was very interested in making clinical information accessible to providers on nights and weekends, especially in the critical area of obstetrics where information is needed 24/7. Inner office communications would be more efficient when conducted electronically as phone conversations with patients could be documented and staff interactions could be recorded. The transition was an unexpected opportunity to significantly reduce office noise as the foot traffic to and from the paper charts would be eliminated. And as an added bonus, the practice looked forward to reducing its carbon footprint.
Along with efficiency gains in the office, the practice hoped to improve staff morale and patient satisfaction. A survey of both groups revealed the practice scored between 4 and 6 out of 10 in both clinical and practice management areas. The EHR system's use would certainly eliminate the storage challenges and costs associated with maintaining paper records system. Their elimination would also decrease the human resources devoted to medical records management and dissolve their budget items related to paper supplies purchases. The EHR would allow providers to work from home instead of staying late at the office, helping them balance their work and home lives. And the availability of remote connections to the EHR system would increase their productivity by allowing connectivity from hospitals while waiting to deliver babies or perform surgery.
The managing partner and the office administrator for the practice assumed responsibility for EHR evaluation and implementation. They harnessed a wide array of resources for selecting the appropriate vendor. Everything from journal articles and conferences, to on-site vendor demos and visits to other practices with EHR systems were sources of valuable information during the evaluation process. Since the practice needed to replace its existing software and hardware, they decided to look for integrated systems that included the patient health record along with scheduling and billing functions.
The practice ultimately chose an EHR vendor that would address the practice's requirement for seamless integration of scheduling and charting while handling business functions like billing, collections, and reporting. Functionality features of the selected system included secure data access with personal passwords that must be changed regularly and patient tracking to locate patients within the practice. Data entry of patient medical history, automatic calculation of level of care provided during the visit, and an electronic superbill available in real time to the check-out area and to billing were all important features. The physicians appreciated the robust obstetrical modules to track multiple components of patient care.
The EHR interfaces with external systems allowing for lab reports to easily be placed in electronic charts while faxed documents are converted to PDF files in the system. There is a convenient wireless computing function that allows providers to use tablet computers for documenting patient visits from the bedside. Scanners are available for existing paper medical records to be put in the system, and small scanners at the check-in desk allow for driver's license and insurance card capture.
Implementing the EHR system all at once was not viable for the practice due to continuous, urgent and semi-urgent situations and ongoing obstetrical responsibilities. In addition the practice leadership had concerns about the fiscal implications of a protracted decrease in productivity. As a result, a three month phased-in approach to implementation was selected.
One week prior to go-live, in July 2006, the office slowed its patient scheduling in order to begin the training process. Training terminals were set up in the conference room and a training schedule was established for the staff that was attentive to the practice's requirement that they still be able to help with the few patients that were on the schedule. For the remainder of the month the practice providers decreased their schedule to 3-5 patients per half day and the entire office's processes were completed electronically. Trainers spent additional time with the 'superuser' physician and medical assistants. In August all new patients' records were entered electronically including lab results, hospital records, and radiology, and by September the practice had converted all processes to electronic formats.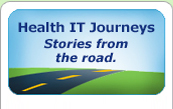 Email us your story at
onc.request@hhs.gov. If the story has been published, be sure to include the name of the publication, the date of publication and a link to the article. Read our disclaimer.
Thanks for sharing your story!
The providers proved to be the most challenging group to train. Their job was clearly the most affected and they had the most to learn while still remaining productive and focused on patient care. Aside from the training provided by the company, the physician 'superuser' was readily available to answer questions. Weekly meetings were implemented to work on more difficult EHR system features. Each week, two or three key functionalities to master were chosen.
By November, revenues had returned to normal levels, and proficiency with the program was growing. Providers were converting more and more charts to electronic form and workflows were running efficiently in all areas.
After 18 months, the practice was using most of the functionality offered by the new EHR system. All patient visits were documented electronically, and all labs and clinical reports became part of the electronic record, reviewed by a provider and properly signed off or delegated to a medical assistant's electronic task list. Internal communications and messaging were handled electronically, paper bills were eliminated, and electronic documents were received from the checkout desk and the billing department. Hospital based procedures such as surgeries, deliveries and consultations are now billed using the system. The only remaining paper bills are from patients that have never been physically seen in the office, such as emergency room patients or hospital consults.
Overall practice efficiency has increased significantly, but so have staff and patient satisfaction. When the groups were surveyed again, the practice scored 9 out of 10 for measures where they previously received scores of 6 or lower. The practice also met its ROI expectations as cost savings associated with ordering paper products and storage cots have been eliminated from the budget. Dr. Lederman says, "The system has paid for itself several times over in practice efficiency and cost savings."
Even after 4 years, Dr Lederman reports that the implementation and proper use of and EMR is an ongoing process of refinement, training and improvements to the original workflows. The vendors continue to issue upgrades and implementation of features such as e-prescribing and patient portals are integral to the success of the practice. All of these efforts have resulted in increased financial returns, greater physician and staff satisfaction and improved patient care.
Palm Beach Obstetrics & Gynecology offers the following lessons learned for other practices considering health IT adoption:
Use a reliable, local IT company or administrator to install and maintain your hardware and software
Develop simple and complete patient demographic and medical information forms that match the software for easy entry
Make sure your leadership team is ready and able to undertake a complex and stressful long term project
Prepare financially and establish reserve funds to account for a temporary drop in productivity and increase
in payroll and overtime pay
Schedule short, daily meetings to work through small but important implementation details
Create deadlines for complete implementation of key components of the program
Don't' underestimate the amount of time that will need to be dedicated to training, especially super users
Don't let the implementation stall out – continue to press on to maximize the functionality of the implementation
Focus on two or three issues to tackle every week. Do not try to fix every problem simultaneously
Be patient, ask for assistance when needed and don't give up!