Family Healthcare Network
Family Healthcare Network

In California's Central Valley there are a sizable number of residents who would otherwise be underserved with respect to their access to quality medical care. Kings and Tulare counties have agricultural wealth and great natural beauty, but in the rankings of per capita income for the state's 58 counties, Kings County is ranked 46th, and Tulare ranks 57th. Nearly one quarter of the area population is below the poverty line, including 32.6% of those under age 18 and 10.5% of those ages 65 or over.
Meeting this need to provide health services to the two counties' underserved population, is the Family HealthCare Network (FHCN), headquartered in Visalia, Calif. This health system consists of 13 sites (11 clinical and 2 administrative). Since its inception in 1976, FHCN has grown to serve 101,967 patients annually, half of which are farm workers, and experiences 492,683 patient encounters yearly. The staff is comprised of 450 clinical support staff, 88 clinicians and 14 dentists.
In 1987, FHCN was designated as a Federally Qualified Health Center (FQHC) allowing the health system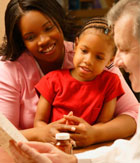 to qualify for federal grant funding to provide care to underserved populations under the Public Health Service Act. With that funding, Family HealthCare Network can provide services in:
Family Medicine
Internal Medicine
Dermatology
Telemedicine
Pediatrics
Obstetrics and Gynecology, and many more areas of patient care
In 2007, FHCN embarked upon a plan to simultaneously convert all of its sites to electronic health records (EHRs). The decision was driven by the health center's commitment to strengthen the quality of patient care and by technology advancements that were becoming the wave of the future. During its research phase, the organization created an EHR selection team driven by clinical staff members. The team held numerous vendor demonstrations and developed tools to create an objective analysis of vendor products in several key elements like user-friendliness, cutting edge technology, ease of customization, familiarity to physicians, and pricing. But another important element that could not be overlooked was a vendor's willingness to undergo contract negotiation. The organization wanted a vendor that would be a strategic partner with the network's best interests in mind. After researching more than half a dozen companies, FHCN made its EHR vendor selection in early 2009.
From the beginning of the implementation process, FHCN set expectations very high with staff, the EHR vendor, and partners. FHCN expected to go live with all EHR modules across the organization without a loss of productivity. To meet this goal, the organization developed a Lean Health Care Team, made up of experienced front line staff, to evaluate workflows and fix processes so the organization could work in a more fluid manner prior to implementation. Several teams were established to ensure that key components of the implementation were on schedule:
EHR Core Team made up of senior leadership, front line experts and medical directors
EHR Build Team comprised largely of providers
Interface Team that tested and certified all interfaces prior to going live and
Technology Team to manage the technical aspects of the implementation.
FHCN also selected an internal Project Director to manage the EHR project and ensure that the organization's needs and goals were being met.
After establishing a framework for implementation, FHCN actively communicated with all staff on the project's progress via emails and in staff meetings. The organization took steps to ensure that nearly 600 staff members across all sites had ample time to train, and that guidance materials were developed and available when needed. A group of 150 "Super Users," including 3 provider champions, were set in place to assist staff members who needed additional instruction. A system was implemented to track trainings and pinpoint staff members that required additional assistance. Time was also dedicated to testing equipment and working closely with providers to gauge their progress and assist their transition.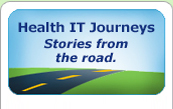 Email us your story at
onc.request@hhs.gov. If the story has been published, be sure to include the name of the publication, the date of publication and a link to the article. Read our disclaimer.
Thanks for sharing your story!
In the final weeks before going live, FHCN utilized a ramp-up approach to begin the transition to the EHR system. Three weeks prior to the go-live date providers saw only 25% of their normal patients load. Every following week the number of patients was increased by 25% until that number reached 100% of patients on the go-live date. This approach allowed providers to use the EHR system in a working environment while giving FHCN ample time to fix technical issues.
There were a few minor challenges that had to be met. For example, FHCN realized that more product development was required on patient charges and immunization records interfaces. Additionally, the lab ordering interface was not certified, requiring the EHR vendor to invest more time and resources to have a fully functional lab ordering system implemented by the go-live date.
After three years of painstaking preparation, Family HealthCare Network went live with EHR at all of its health center sites in March 2010. In all, FHCN implemented 21 EHR software modules that centralized patient medical information, including lab results, images, prescriptions, and medical history. This centralization of critical patient data elements gives providers immediate, secure access to patient information at all times across all locations when they need it. It also eliminates the need to pull paper charts which, affords providers more time with patients and less time on clerical tasks. The EHR system enhances patients' visits by allowing physicians to share a wider range of information with their patients. As Chief Medical Officer Steve Palmer explains, "I can turn the monitor toward the patient and say 'Here are your lab results.' This patient can see his or her information and get a better understanding of what is happening."
A multitude of factors enabled the success of the EHR system implementation. Perhaps most importantly, the EHR project was a priority throughout the entire organization and everyone was expected to process patients electronically at all sites with no reduction in productivity. In order to be sure that expectation could be met, the EHR system workflows were developed with input from all of FHCN's impacted departments and key templates were developed well ahead of the go-live date. In addition, the vendors and the EHR project were kept on track, according to the project plan, and the EHR vendor and partnering vendors were committed to meet contractual obligations for interfaces and the go-live date. Finally, maintaining flexibility and looking for ways to improve clinical and administrative processes proved invaluable.
FHCN experienced a smooth transition to the EHR system with minimal loss of productivity and without any negative impact on patients. All levels of FHCN's staff, including physicians, have fully embraced the use of the EHR system. Patients have also embraced the change as many have expressed that system features such as electronic prescribing and electronic physician referrals are time savers for them. Overall, Family Health Care Network has been so successful that its EHR vendor is now using the organization's implementation as a model for other customers throughout the country. In reviewing its implementation strategy for EHR adoption throughout its system, the Family HealthCare Network identifies the following suggestions for other organizations embarking on health IT adoption projects:
Selection of an internal Project Director
Inclusion of a large multidisciplinary team with an emphasis on providers
Implementation of a ramp-up approach to go live
Development of a detailed project plan
Conducting an EHR readiness assessment
Definition of a required technical infrastructure
Engagement in contract negotiation with key deliverables
Creation of minutes of weekly vendor calls to create accountability
Establishment of scanning guidelines for historical forms
Creation of an interface roadmap and interface engine