Health IT Fellows: Leaders in Health IT
ONC is in a continuous state of coordination and collaboration to meet provider needs through outreach to grantees, national partners, and federal & local government agencies. In addition, ONC has identified a particular need to hear directly from providers, office staff, and administrators in the field to ensure that smaller practice & organizational needs are being met when providing resources & creating technical assistance tools. As a result, the Health IT Fellows program was created to learn with and from those in the field and to create conversation whereby Fellows can share best practices with their peers facing similar challenges to leveraging Health IT. Learn more about individual HIT Fellow backgrounds and think of how YOU can participate in the national conversation on leveraging meaningful use.
Health IT Fellow Purpose Statement*:
The purpose of the Health IT Fellows ("Fellows") is to provide grassroots insight and critical feedback/critique of appropriateness, clarity, and effectiveness of resources, tools, and other technical assistance initiatives of the ONC and others geared towards their peers. Fellows are empowered to ensure these and other communications are realistic, authentic, and clear to their colleagues in an effort to ensure that all messages and tools resonate with the provider and practice community. Fellows also act as champions to their provider and practice community colleagues on a local and national scale. Fellows will lend their voice and experience regarding ways providers can leverage Health IT to improve patient engagement and experience in the delivery of patient care, making Meaningful Use meaningful.
*Written in collaboration with & approved by the Spring 2013 Health IT Fellows
Health IT Fellows Program Update (October 2014)
We are proud to announce the selection of 12 provider and administrator champions to join the Health IT Fellows Program! These 12 champions from across the country join a team of over fifty on-the-ground leaders to leverage health IT to improve health and health care and create a learning health system. The HIT Fellows have taken up the call to action to serve as champions in their communities, working with local and state partners to tackle tough challenges together. Please join us in welcoming our newest class:
Chris Collinge of Orlando, FL
Tobe Fisch, MD, PhD of Plainsboro, NJ
Allison Foley, MD of Orange, CA
David O'Hara of Westchester, NY
Sharon Phelps, RN of Cody, WY
S. Shafiq Rab, MD of Hackensack, NJ
Matthew Rafalski, MD of Jellico, TN
Michael Rakotz, MD of Chicago, IL
Angela D. Scott of Russell Springs, KY
Sanjay Seth, MD of Piscataway, NJ
Dennis Ward of Portsmouth, OH
William Wulf, MD of Columbus, OH
This class will increase the HIT Fellows program's cumulative participation to 62 provider and administrator champions from 29 states! More information on these 12 new HIT Fellows, including bios and stories of how they are leveraging meaningful use to deliver better patient care, will be found on Healthit.gov in Winter 2014. Participation in this program is strictly voluntary and we are thrilled to have such a strong and diverse cohort moving into our second year as a program. Fellows are empowered to work with the local & national community to promote open and productive dialogue, including working with a local provider/practice to help them leverage meaningful use.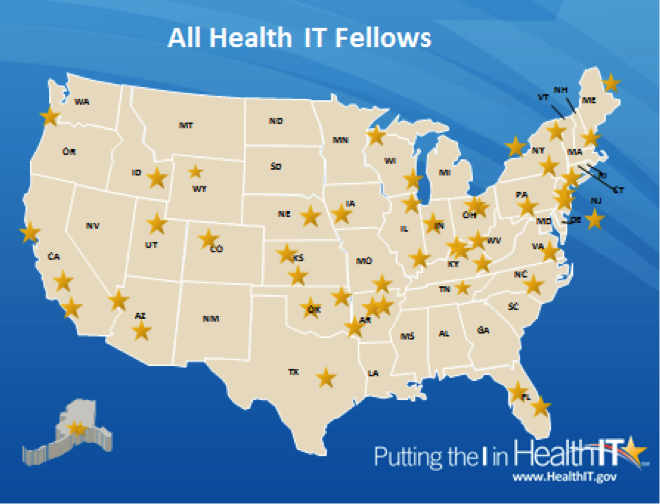 The Health IT Fellows are primary care providers and administrators representing a range of organization setting types including small practices, large practices, Critical Access Hospitals, rural clinics, and tribal health organizations. In order to promote relationship development and allow for a mature feedback process, the Fellows have been divided into three tracks which correspond directly with the National Quality Strategy, specifically:
All Tracks are responsible for defining their goals and objectives as Fellows and are supported by ONC Subject Matter Experts. The Health IT Fellows are of, by, and for the practices, as such, we will continue to provide insight into the program and share examples with you on how the Fellows are leveraging meaningful use in their practices. We will continue to provide updates similar to our as the Health IT Fellows continue to progress in their practices, communities, and on a national level to leverage health IT as a tool in helping to keep patients at the center of care.
All Health IT Fellows
(as of Spring 2014)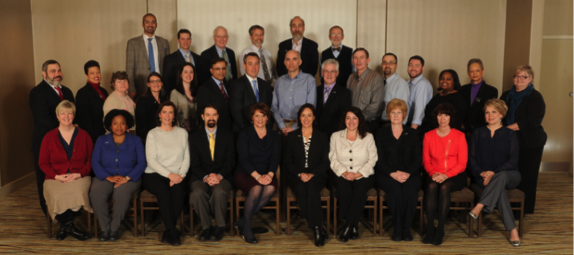 Front Row (left to right): Jennifer Brull, Jacqueline Delmont, Peggy Patch, Timothy Burdick, Angela Murphy, Karen DeSalvo, Tiffany Nelson, Lisa Lyon, Bambi McQuade-Jones, Kacey Bolton
Middle Row (left to right): Frank Maselli, Michelle Reed, Becky Blevins, Lisa-Nicole (Danehy) Sarnowski, Sarah Churchill Llamas, Sumir Sahgal, Colin Banas, John Berneike, Eugene Heslin, Frank Floyd, Paulo Pinho, James Spillane, Margot Savoy, Sandra Brown, Jo Lynne Varner
Back Row (left to right): Raj Desai, Chad Jensen, James Gould, Larry Garber, Dennis Saver, Franklin Bragg
Not pictured: Douglas Ashinsky, Alan Barton, Felix Carpio, Robyn Chatman, Michael Gilbert,Annick Hebou, Gustin Ho, Drew Jackson, David Kendrick, Emily Krohn, Timothy Long, Paul Merrywell, Emily Milton, Gregory Reicks, Bethany Sanders, Karen Smith, Frank Sonnenberg, Steve Stark, Christopher Tashjian, Angie Walker, and Brian Yeaman.
Participating in the Health IT Fellows Program
For information on how to become involved in the Health IT Vanguard program as either a Meaningful Use Vanguard (MUVer) or Health IT Fellow, please contact us at HealthITVanguard@hhs.gov.