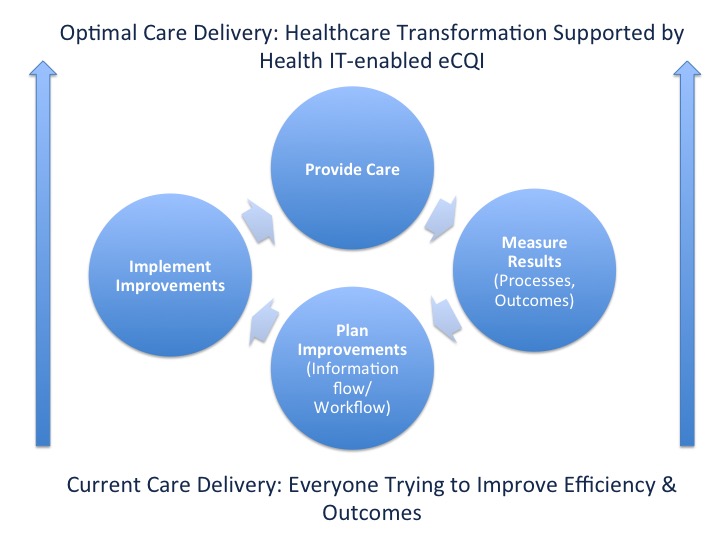 eCQI: What It Is, and How It Can Help You
Clinicians and other health care team members, in partnership with their patients, are essential participants in transforming care delivery toward better care, smarter spending, and healthier people. Health IT enabled quality improvement [PDF - 1.2 MB] supports all participants - individual clinicians, interdisciplinary care teams, organizational health service providers, and patients – in this transformation. ONC is committed to helping providers, care teams, and consumers identify and use health IT tools to improve the quality and safety of care, health outcomes of populations, and provider and patient care experience.
Electronically facilitated clinical quality improvement (eCQI) uses a variety of processes and tools to help continuously improve care and support improved health. eCQI is not only about a set of health IT tools but also about helping people to design and maintain efficient processes that make effective use of technology to sustain continuous improvement cycles and optimize care quality and outcomes. For health care providers, the quality improvement cycle is familiar: provide care; measure its safety, quality, and where possible its outcomes; plan and implement improvements; monitor whether interventions are effective and adjust as needed to continuously improve results.
Health IT enables more rapid feedback on measurement as well as real-time improvement support tools such as workflow-integrated clinical decision support (CDS). It transforms the basic quality cycle into an upward spiral of performance and outcome improvement for providers, patients, and the health system overall as learning grows through sharing analyzing and using data better. New improvement methods and care approaches are likely to emerge as a result of this learning.