Lisa A. Lewis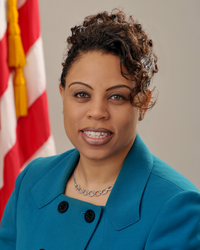 Deputy National Coordinator for Operations
Chief Operating Officer
Lisa A. Lewis is the Deputy National Coordinator for Operations and Chief Operating Officer at the Office of the National Coordinator for Health Information Technology (ONC). In these positions, Lisa is responsible for providing executive oversight and setting the strategic direction for matters related to program integrity, budget formulation and execution, grants and contracts management, human capital, information technology, and operational services. Lisa currently serves as ONC's Chief Information Officer and served as the Acting Principal Deputy National Coordinator for a 5-month period in 2014.
During her first 3 years at ONC, Lisa served as the Chief Grants Management Officer, establishing and adroitly managing a new office, responsible for the oversight of over $1.7 billion in grants. As a recognized leader in the field of grants management, Lisa championed innovative and cutting edge approaches to grants management and forged strong collaborative partnerships with program officials to provide a framework for ensuring program success and financial accountability. In 2012 and 2014, Lisa received the Secretary's Award for Meritorious Service for her outstanding efforts in implementing ONC grant programs.
Before coming to ONC, Lisa served as Director of the Grants Management Division within the Federal Emergency Management Agency's (FEMA) Grant Programs Directorate. This organization centralized all FEMA business grants management services under one Division. In this position, Lisa was responsible for overseeing the operations of six branches, encompassing the full life cycle of grant administration. She was responsible for the grants policy development for all of FEMA's 56 grant programs totaling over $50 billion dollars. Lisa was also responsible for awarding over 6,000 grants annually and managing close to 20,000 open grants.
Prior to this, Lisa served as the Acting Assistant Administrator of the Grant Programs Directorate. In this role, she led the programmatic, operational, and grants management functions of FEMA's preparedness grant programs, valued at over $3 billion annually. Lisa spearheaded the development and implementation of the newly-formed Grant Programs Directorate under the direction of the FEMA Administrator. As an authority in the field of federal grants management, she advised FEMA senior managers in every area of the development of this directorate. For successfully spearheading FEMA's grants management transformation efforts, Lisa received the 2007 Department of Homeland Security Secretary's Award for Excellence.
Lisa holds a Bachelor of Science degree from the University of Maryland, College Park. Lisa also attended the University of Maryland School of Law.