Chief Nursing Officer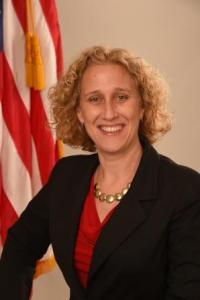 Rebecca Freeman, PhD, RN, PMP, serves as the chief nursing officer of the Office of the National Coordinator for Health Information Technology.
Dr. Freeman has previously held positions at the Hospital Corporation of America (AVP, Epic National Nurse Champion) and the Medical University of South Carolina (CNIO, Manager of Nursing Informatics). Dr. Freeman's first career was in the field of information technology, focusing on networking and device management, SCADA systems, analytics, and large-scale IT project management. After this, she made a career change to nursing.
With ONC, Dr. Freeman provides nursing leadership for comprehensive initiatives focusing on nursing practice, administration, research, and partnerships in support of health IT enabled patient care. She also serves as a liaison to internal and external communities. She develops, supports, and implements innovations in the design and evaluation of health IT as it relates to clinical nursing practice requiring the exercise of independent judgment and resourceful policy and technical and operational solutions as needed to support health care providers. Dr. Freeman also provides written responses to draft legislation and ensures expert nursing opinions and input on key proposals and inquiries.
Dr. Freeman's PhD work focused on interdisciplinary collaboration and she has a keen interest in the collaboration of nursing with other healthcare team members, specifically the barriers that hinder, and variables that encourage, teamwork. Combining her backgrounds, she works with all aspects of the implementation of enterprise, interdisciplinary electronic health record (EHR) systems and other types of health IT. She enjoys facilitating team-building, the creation of interdisciplinary governance structures and task forces, and actively strives to engage the bedside nurse and operational owners in the Health IT development/optimization process. Her ultimate goal is to enhance care and satisfaction for the clinician and optimize care/outcomes/satisfaction for patients, through the use of health IT.
Dr. Freeman graduated with her Bachelor's degree from the Medical University of South Carolina (MUSC) in Charleston, SC. Following graduation, she completed a critical care (emergency medicine) nurse residency at Lexington Medical Center in Columbia, SC and began full-time study in the Nursing PhD program at MUSC.