Adi V. Gundlapalli, MD, PhD, MS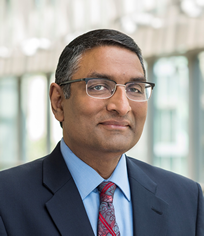 Member of:
Health IT Advisory Committee
, Federal Representative
Federal Representative
Centers for Disease Control and Prevention
Dr. Gundlapalli is a physician and informatician who currently serves as the Chief Public Health Informatics Officer at the Center for Surveillance, Epidemiology, and Laboratory Services (CSELS) in the Centers for Disease Control and Prevention (CDC). In this role, he facilitates informatics collaborations, serves as a liaison for informatics across the agency and with US Department of Health and Human Services and external partners, advocates for the need for enhanced informatics capability in public health, and supports informatics needs both within CSELS and across CDC.
Dr. Gundlapalli came to CDC from Utah where he was the Chief Health Informatics Officer for the VA Salt Lake City Health Care System and infectious diseases staff physician. At the University of Utah School of Medicine, he was a tenured professor of Internal Medicine and physician at University of Utah Hospitals and Clinics. He is board certified in internal medicine, infectious diseases, and clinical informatics. His clinical and research interests include infectious diseases, clinical immunology, bio-surveillance (and biodefense), preparedness for public health emergencies, infection prevention and hospital epidemiology, and healthcare of vulnerable populations.
Dr. Gundlapalli received his medical degree from the Madras Medical College in Madras (now called Chennai), India. He received further training at the University of Connecticut Health Center where he earned a PhD in immunology and completed an internal medicine residency. He then moved to Utah where he completed a three-year clinical and research fellowship in infectious diseases at the University of Utah School of Medicine and a master's degree (with a thesis) in biomedical informatics.