Christina Caraballo, MBA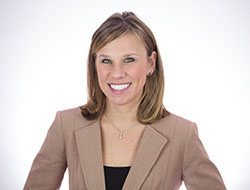 Member of:
U.S. Core Data for Interoperability Task Force 2018
, Co-Chair
U.S. Core Data for Interoperability Task Force 2019
, Co-Chair
Director
Ms. Caraballo is a force of positive energy and is known as a thought leader who solves problems. She is transforming health care by synergizing her passions for policy, innovation, interoperability, consumer engagement, access to information and the adoption of health IT. She is an experienced and sought after national and international speaker. She thrives on identifying trends and initiatives and translating their impact. As a Director at Audacious Inquiry, Ms. Caraballo's mission is to transform healthcare, make a positive impact in the world and improve communities at the local, national, and international levels.
During her tenure at Get Real Health, a patient engagement technology trailblazer, Ms. Caraballo quickly solidified a reputation as a leading global subject matter expert on consumer engagement strategies and initiatives and has been at the forefront of the global culture shift to put patients and families at the center of care. Ms. Caraballo led the company's government strategy, consulted with clients on how to best meet regulatory requirements, and oversaw the company's health IT certifications.
As a recognized leader in the health IT sector, Ms. Caraballo was appointed to the Maryland-D.C. District Export Council (DEC) by the U.S. Secretary of Commerce. She acts as an advisor to the Department of Commerce on global exports of health IT and expanding local, national, and global business opportunities for companies in the Maryland and DC regions. She was appointed to the Health IT Advisory Committee (HITAC) by the Government Accountability Office and is on the Board of Directors for the National Association for Trusted Exchange (NATE).
Ms. Caraballo was one of seven inaugural recipients of the HIMSS 2016 Most Influential Women in Health IT Award. She is currently a member of the HIMSS Most Influential Women in Health IT Judging Committee and is a leading voice in the women's community participating in roundtables and speaking engagements focused on women empowerment and development. She is the immediate past Chair of the HIMSS Connected Health Committee and continues to remain active on a variety of work groups and conference planning committees focusing on topics ranging from policy, standards, interoperability, health information exchange, consumer engagement, and connected health. At the local level, she serves as a mentor for the HIMSS National Capitol Area chapter and is developing a chapter focused on women's initiatives.
Ms. Caraballo holds a Bachelor's in Communications from Penn State, a MBA with a focus in Health Management and Leadership from George Washington University, and an ONC Graduate Certificate in HIT from George Washington University.